Wigan coach Shaun Wane craves Super League top spot
Last updated on .From the section Rugby League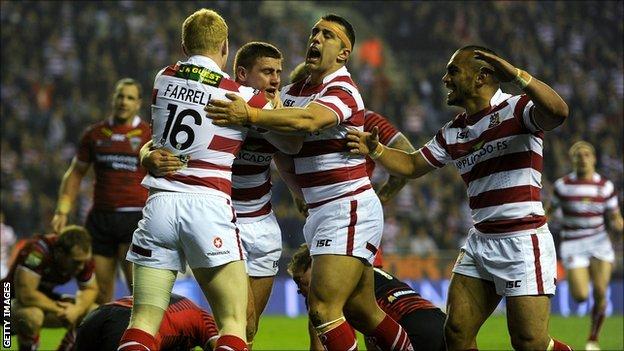 Wigan coach Shaun Wane has spoken of his desire to see the Warriors finish top of Super League in 2012.
Wigan face Warrington on Saturday, knowing a win will almost certainly secure the league leader's shield.
Warriors coach Wane told BBC Radio Manchester: "Some people comment that it means nothing, but it does to me.
"I'm not bothered what anybody thinks. It means a lot to me and the players that we're consistently the best team and we have been this season."
Warrington pipped Wigan to top spot in 2011, although both sides failed to make the Grand Final.
Leeds Rhinos beat St Helens at Old Trafford, having finished fifth at the end of the regular season.
Wigan lead Super League by three points with four matches left to play, and captain Sean O'Loughlin believes topping the table will give the Warriors a big psychological advantage heading into the end-of-season play-offs.
"The league leader's shield is a massive step towards getting into that Grand Final," said O'Loughlin.
"If you can get that, it shows you've gone into the play-offs with some good form and been playing some good rugby.
"We just missed out on it last year and we didn't go so well in the play-offs. That was probably because we stumbled into them a little bit."