Bradford Bulls: Unconditional bid made for Super League club
Last updated on .From the section Rugby League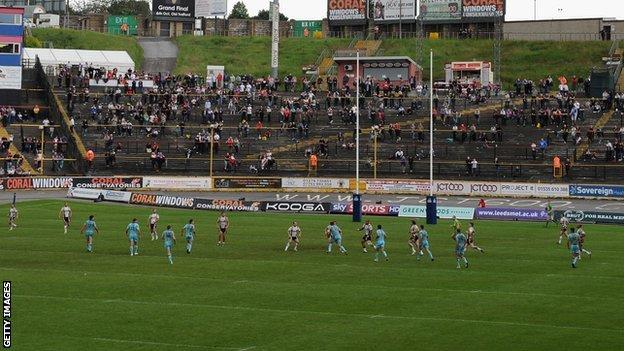 The Rugby Football League have confirmed that the latest bid submitted for the Bradford Bulls is the first unconditional offer for the club.
Administrator Brendan Guilfoyle revealed earlier on Wednesday that he had been approached by a new bidder and the offer had been put to the RFL.
Last week Super League (Europe) Ltd submitted an offer to Guilfoyle, but it is believed this offer is preferable.
The RFL is expected to respond in the coming days.
The Bradford Telegraph and Argus has claimed that Bradford City Football Club is behind the new bid.
Guilfoyle said: "The administrators have a duty to creditors to aim to get the best deal possible so we submit all offers where funds are proved.
"This new offer is for more than Super League (Europe) Ltd put forward so we felt obliged to submit to the RFL for consideration."
The ABC consortium had previously submitted two conditional bids for the Bulls in July but both were rejected by the RFL.
Bradford Bulls entered administration on 26 June and Guilfoyle set an initial 10-day period to save the club from "extinction".