Ten Warrington Wolves players sign contract extensions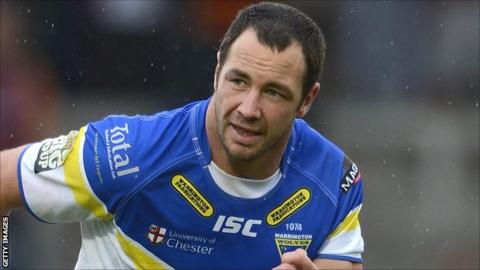 Veteran Adrian Morley is among a group of 10 players to have signed a contract extension with Warrington Wolves.
The 35-year-old forward, along with Lee Briers, Micky Higham and James Laithwaite, has agreed to stay until the end of the 2013 season.
Brett Hodgson, Brad Dwyer and Mike Cooper have signed new two-year deals.
Ben Westwood and Gareth O'Brien will remain with the club until 2015, while the Challenge Cup finalists will keep Chris Hill until the end of 2016.
"It's great we're keeping players who are doing a fine job for us and helping this club advance," said Warrington coach Tony Smith.
"I'm big on stability in the camp within a club and we've got plenty of talent and experience so the blend is a good one.
"I'm confident it's going to continue to be one of our strengths as we maintain that stability and keep the momentum moving forward at the club for the future.
"Each one of these players is a talent in their own right and has experience that they bring to the squad. The blend's working well for us presently and I've got no doubt it will continue to work for us in the future."
Warrington, who won the league leader's shield in 2011, have continued to impress in Super League this season.
Monday's 22-12 victory at St Helens strengthened their grip on second position in the table, and a home win against leaders Wigan Warriors on Saturday will close the gap at the top of the table to just one point.
The Wire also have the chance to win the Challenge Cup for a third time in four seasons. They face Leeds Rhinos at Wembley on 25 August.