Wigan's Sam Tomkins will be wanted in NRL - Brett Finch
Last updated on .From the section Rugby League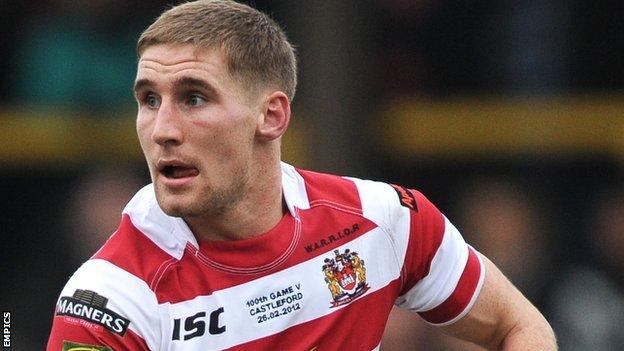 Brett Finch believes there would be lots of interest in signing Sam Tomkins, if the Wigan full-back decides to pursue a career in Australia's NRL.
Tomkins is free to consider his options at the end of the 2014 season and said in June that
Finch told BBC Radio Manchester: "I'm not sure if Sam wants to go over there.
"But I'm sure when he comes to the end of his contract, there will be plenty of clubs in Australia wanting him in their team, that's for sure."
Half-back Finch continued: "The fast rate at which his career is moving forward is amazing.
"Wigan have got him tied up for a few more years, which is very smart. I'd look to tie him up for as long as possible."
Tomkins agreed a new contract with the Warriors at the end of last season, keeping him at the DW Stadium until 2016.
However, a clause in the deal allows him to talk to other clubs at the end of 2014.
Writing in his column for the Manchester Evening News on 28 June, Tomkins said: "Playing in Australia and challenging myself against the best rugby league players in the world definitely greatly appeals to me.
"It is something that I may well do in the future.
"Come December 2014, to play in the NRL will be an option open to me and I will give it serious consideration. It is a big decision, but one I have to consider."
Finch has already announced that he will be returning to the NRL at the end of the current Super League season, after two years with Wigan.
Wigan duo Brett Finch and Jeff Lima were studio guests on BBC Radio Manchester's Rugby League Extra on 9 August - listen again to the full programme or download the podcast