St Helens & Wigan coaches criticise officials after defeats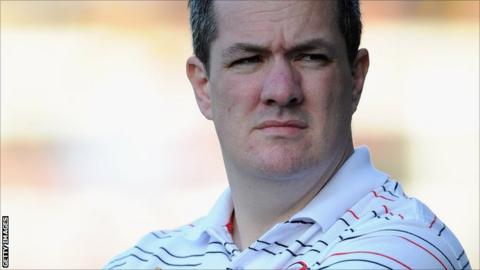 Coaches Mike Rush and Shaun Wane have criticised officials after weekend defeats for St Helens and Wigan.
Rush was unhappy with referee Thierry Alibert after Saints' 33-32 defeat at Wakefield on Sunday.
Meanwhile, Warrington were allowed to score a try against Wane's Wigan after what appeared to be a forward pass.
"It was unbelievable. I get a phone call every week apologising and I'm sick of apologies," the Warriors coach told BBC Radio Manchester.
St Helens interim coach Rush accused Alibert of losing control of his side's game against the Wildcats.
"I've voiced my opinion on Thierry," Rush told BBC Radio Merseyside. "Every time we have him, we have a game like that.
"We want quick rucks and there was one incident in the first half where Lance Hohaia makes a break, he gives the ball to Jonny (Lomax) and Jonny's tackled before he catches the ball.
"He then goes down and they're allowed to get 13 men behind the ball before we play it. You're having a laugh."
Although Wane has been unhappy with the consistency of refereeing in recent weeks, he said Steve Ganson's decision to award Joel Monaghan's try on Saturday had no bearing on his side's final result.
"There were other things that happened in that game and that wasn't the reason why we lost," Wane continued.
"I had a discussion with the RFL [Rugby Football League] after the Challenge Cup semi-final. They apologised and said three tries shouldn't have been allowed.
"We'd have been at Wembley, although we didn't deserve to win that day either.
"It's upsetting and demoralising for me as a coach, but I'm just saying what every Super League coach is going through. The inconsistency is absolutely blowing my mind."