Challenge Cup final: Meet Warrington Wolves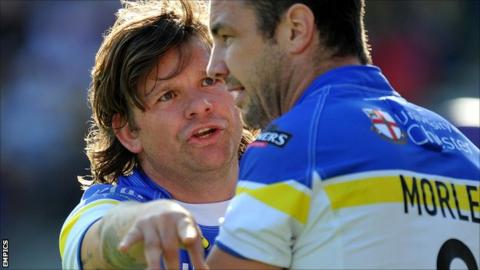 Challenge Cup final: Leeds v Warrington
Venue:

Wembley

Date:

Saturday, 25 August

Kick-off:

14:30 BST

Coverage:

BBC One, BBC HD and online: 14:00-17:00 BST; BBC Radio 5 live: 14:30-17:00 BST; BBC local radio
Warrington Wolves go into Saturday's Challenge Cup final against Leeds Rhinos with hopes of winning the famous trophy for a third time in four years.
appeared in Warrington's cup victories in 2009 and 2010.
Here, he guides BBC Sport through the Wire squad of 2012.
Warrington - 2012 Challenge Cup final squad
Brett Hodgson
Position: Full-back
An outstanding footballer and his goal-kicking is second to none. Brett and myself have got the worst bodies at the club, but as it is me doing this piece, he has definitely got the worst body.
Chris Riley
Position: Winger
A winger who is getting better with each game he plays. He has got a lot of pace, and I think a lot of that pace comes from the fact that he has got a massive back side.
Chris Bridge
Position: Centre
The number one moaner at the club and the grumpiest man you will ever meet. But talent wise, he is exceptional. I have played with him for a number of years and he is an exceptional talent.
Ryan Atkins
Position: Centre
His speed and strength are second to none. He could not catch properly before he joined us, he would admit that himself, but now he can flick passes with one hand.
Joel Monaghan
Position: Winger
Knows everything and always has the best stories. A fantastic player for someone like me to have outside to kick to, even though I am faster than him.
Richard Myler
Position: Half-back
Coming of age and hopefully he will get his chance this year after missing out last time. He often speaks before he thinks, so he makes everyone in the squad laugh.
Adrian Morley
Position: Prop
If you wanted someone to go into the trenches with, you would say Adrian Morley. But he has got by far the worst dress code in the whole of Super League. Even though he is 35, he dresses like a 78-year-old.
Michael Monaghan
Position: Hooker
Loves a good moan, especially about the weather.
Up there with one of the best players I have ever played with.
Garreth Carvell
Position: Prop
The wrecking ball, as we call him. To have someone of his calibre leading our team up front is great. To play as a half-back behind him is something else.
Trent Waterhouse
Position: Second row
What a signing he has been. Does a lot of work that goes unnoticed and the experience he has brought with him has been invaluable to our young kids.
Ben Westwood
Position: Back row
Can do anything, not only on a rugby field, but off it as well. He plays golf, the guitar, the piano. So he tells us all anyway. His performances in the last couple of years have been unbelievable.
Ben Harrison
Position: Back row
The joker in the pack. Another one who, unless you play with him, you do not realise how much work he does. An outstanding talent, but the most unhygienic person I have come across in a long time.
Micky Higham
Position: Hooker
The tightest bloke ever.
We will just leave it at that.
Simon Grix
Position: Loose forward
Been unlucky with injuries but he is getting a run of games now and is showing what he can do. Another one in the squad who likes a joke, just like Ben Harrison.
Paul Wood
Position: Prop
He will tell you he is the best prop in the club, but we know he is only joking. He was on that "Super League's Supermen" programme and they should have changed the name to "Super League's Supersub".
Mike Cooper
Position: Prop
The quiet one of the team, but what he does for the team is unbelievable. He has got great footwork, awesome going forward and his defence has come on a lot. Willing to learn all the time.
Matty Blythe
Position: Centre
The youngster, but they are all youngsters to me these days. Tremendous utility player. Wherever you put him, he does a great job for the team.
Stefan Ratchford
Position: Centre / half-back
An unbelievable buy for Warrington from Salford. His talent is unbelievable and, if we can nurture that talent, he will be one of the best players in England in a few years. Another tight man.
Chris Hill
Position: Prop
He is the second tightest bloke at the club behind Micky Higham. On the field, he has been a revelation. To come from the Championship and do what he has been doing this season is just ridiculous.
Tyrone McCarthy
Position: Second row
Had to wait for his chance over the years and has worked really hard.
A great back-up to our back-rowers.
Rhys Williams
Position: Winger
Powerful winger who scores tries for fun. Very quick, just like Chris Riley. It must be something about wingers because they both have big fat backsides.
Gareth O'Brien
Position: Half-back
The understudy to me, so they keep telling me, but he is his own player and he is a quality player. Reads the game well, kicks well and tackles well. One for the future.
David Solomona
Position: Second row
The most talented ball-player I have ever played with. Some of the things he does in training, you look at him and wonder if he has performed a piece of magic. A gentleman on and off the field.
Lee Briers
Position: Half-back
Probably the best out of the lot of them! But seriously, I just go along with my business and all of those players listed above make my job so much easier. It is a pleasure to play alongside every one of them. Without them, I am no one and I owe it all to them.