Jamie Jones-Buchanan: Leeds Rhinos in search of 'elusive' Cup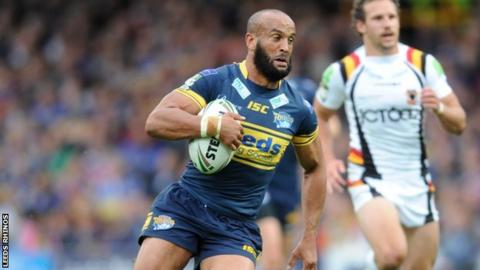 Challenge Cup final: Leeds v Warrington
Venue:

Wembley

Date:

Saturday, 25 August

Kick-off:

14:30 BST

Coverage:

BBC One, BBC HD and online: 14:00-17:00 BST; BBC Radio 5 live: 14:30-17:00 BST; BBC local radio
This has been yet another year where I have had a God-given privilege of going on another life-enhancing journey with a special group of friends.
Having already played in a final this year - where, through hard work, we managed to become world champions for the third time in my career - we have another opportunity on Saturday to do something great and something we have never done as a group - win the Challenge Cup.
With five Grand final wins, three World Club Challenges and two league leaders trophies in the last eight years it seems almost anomalous to have never had any joy in the prestigious Challenge Cup.
Despite having several opportunities we have never quite been able to grab it; losing out by two points to Bradford in 2003, one point to Hull in 2005 and still unable to get the win in either of our visits to Wembley over the last two years. The Challenge Cup has at times seemed - metaphorically speaking - as elusive as the golden snitch in Quidditch (that might be one for the Harry Potter fans only).
Winston Churchill said: "Success is not final, failure is not fatal: it is the courage to continue that counts." (Don't get me wrong here. I'm not a fan of the saying "it's the taking part that counts" - if you're not going there to win, then don't bother turning up.) In my experience of sport I see Churchill's quote to be true.
A big win or a major trophy is swiftly followed by the weight and expectation of succeeding in the next big challenge. Then, in contrast, through times of adversity when things haven't gone to plan and people have started to doubt you, finding the strength and courage to continue makes the next win all the sweeter - as we found coming from fifth to win last year's Grand Final.
I would conclude then that success goes much deeper than just winning or losing, success is the measure of the attitude towards the journey. Winning and losing is just feedback and you can make every bit of feedback positive if you know how to assimilate it in a positive way.
We are fortunate to have two of the most emotionally intelligent and smart coaches I have come across in Brian McDermott and Jimmy Lowes, who have guided us through every experience, good, bad, high and low, and converted the experience into energy for the next challenge.
On the pitch we have two of the most experienced and talismanic leaders in Kevin Sinfield and Jamie Peacock, whose example has helped us towards more success than anyone will ever realise.
We have learned a great deal this year in another season where the Super League competition has got better and better and produced some formidable teams.
None have been more formidable than our opponents on Saturday, Warrington Wolves, who deservedly sit in the top two and find themselves in yet another final.
Winning the Challenge Cup is no easy task, if it was it wouldn't be so special.
Everything humanly possible on our part will be done to try and enable us to install a piece of what - for many of us - has been a big and enjoyable jigsaw.
All I can guarantee coming out of the other end is that our attitude towards the journey will always be the same.