Tony Rea takes London Broncos job permanently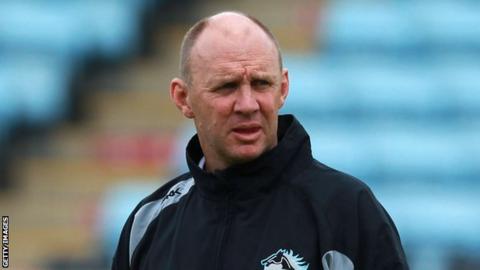 Tony Rea has been appointed as the head coach of London Broncos for a second time after signing a two-year contract.
The Australian had been in interim charge at the Twickenham Stoop after taking over from Rob Powell last month.
It marks a U-turn from the 45-year-old, who initially said he was not interested in taking the post permanently at the Super League side.
"It was purely a coaching decision. If I scratch myself hard enough, I did miss coaching," Rea said.
Rea, who served as head coach of the club for five and a half years in the mid-2000s, has transformed the side's fortunes since returning to south-west London.
He lost his first two games in charge but then led the side to three straight wins, culminating in the 62-18 victory over Warrington last Friday.
Rea, who has also had a spell as Broncos chief executive, was available to re-join the club after leaving the coaching staff at Australian rugby union side Brumbies last year.
The club had announced they would launch a worldwide search for a new coach after Rea took interim charge.
Broncos chairman David Hughes said: "We've had lots of applications and have given them all due consideration.
"One shouldn't underestimate what a tough task it is but I think Tony Rea is the man for the job.
"He's experienced another code and allied to his motivational work this has made him the ideal candidate.
"He's got a massive desire to coach again and he's impressed on me that coaching is all he wants to do."
Powell, who Rea replaced as coach, parted company with the Broncos earlier this week.