Challenge Cup final: Meet Leeds Rhinos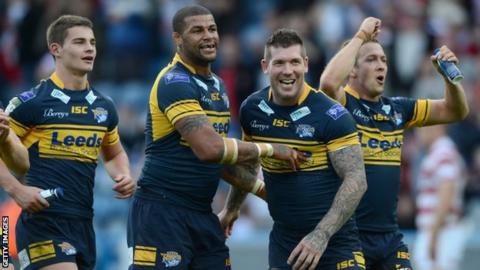 Challenge Cup final: Leeds v Warrington
Venue:

Wembley

Date:

Saturday, 25 August

Kick-off:

14:30 BST

Coverage:

BBC One, BBC HD and online: 14:00-17:00 BST; BBC Radio 5 live: 14:30-17:00 BST; BBC local radio
Leeds Rhinos face Warrington Wolves in the Challenge Cup final on Saturday, looking for their first win in the competition since 1999.
Forward Jamie Jones-Buchanan, who is a four-time final runner-up, is hoping his team go one better this year.
With a bit of help from Rhinos half-back Rob Burrow, he talks BBC Sport through the players looking to make it third time lucky for the 2010 and 2011 losing finalists.
Leeds Rhinos - 2012 Challenge Cup final squad
Jamie Jones-Buchanan (by Rob Burrow)
Position: Prop
An absolute warrior of a player who always works himself to a standstill every game. A vital part of what the club do both on and off the pitch. The most consistent player in the team who always plays great in big games. Constantly changes appearance to keep the CIA off his tracks.
Brent Webb
Position: Full back
A metaphysical enigma is the best way to describe Webby.
It is not easy being Superman. He has been a star of the Rhinos.
Ben Jones-Bishop
Position: Wing
To win trophies you have to be able to finish those chances that are 70/30 against, and Ben does that regularly for us and this was typified in his semi-final performance. The best thing is, some people hear his name and think it's me scoring all those tries.
Carl Ablett
Position: Second row
The one thing I hate more than losing is scoring less tries than Carl Ablett. He's way ahead of me at the minute mainly because he's the size of a forward with the skills of a half-back. Unfortunately for him, he's ahead of me in the hair loss department too.
Zak Hardaker
Position: Centre
The "holographic snake" - Zak is one of the most slippery, elusive outside backs I've ever seen. Arguably the best young signing Leeds have made in years, but if you miss the sight of him coming, you won't miss the smell of his feet.
Kallum Watkins
Position: Centre
Maybe the most entertaining player on the team, class footwork, speed to burn and a shoulder to stop the biggest of forwards. He's very proud of being from "manchestoh".
Ryan Hall
Position: Wing
Simply the world's best and most intelligent winger. On our recent Catalan trip he either made whoopi cushion noises at the side of the pool with his wet back or was on the foyer piano playing Beethoven's 5th - flawlessly.
Rob Burrow
Position: Scrum-half
Just like McGuire he's been a gem for the modern game, a real match-winner. He's the hero of most finals and was massive in last year's Grand Final. One worry though; if your nose and ears never stop growing, what's he going to look like at 55?
Kylie Leuluai
Position: Prop
Simply the hulk. The strongest player I've played with by a long shot.
Loves to take us forward almost as much as he loves a win bonus.
Shaun Lunt
Position: Hooker
Another big addition to us this year.
His work out of dummy-half is outshone only by his joke shop teeth.
Jamie Peacock
Position: Prop
Although very different, JP is one of my life inspirers. He's real steel exemplified by a recent film of the same name starring a heroic robot called "Atom" who, like JP, is old and grey but simply indestructible.
Stevie Ward
Position: Loose forward
Backed to be the new Kevin Sinfield.
And with the way he's been playing, it looks like a valid prophecy.
Brett Delaney
Position: Second row
More Australian than an advert for a certain brand of lager but a bigger desire to be English than Mohamed Al-Fayed. He's a big worker and it's an honour to play with him.
Kevin Sinfield
Position: Stand off
A life-long friend and inspiration - I can't imagine there being a finer leader in any other sport, ever. His reaction to banter is disproportionate "shock and awe" so I will simply say he's been a bigger influence in our recent success than anyone will ever know.
Ian Kirke
Position: Prop
Viking of a bloke and diet guru. Knows almost everything there is to know about the ideal dietary requirements of a human being. His formidable approach on the pitch is as solid as his powerclean.
Ryan Bailey
Position: Prop
Ryan does what he wants apparently and he is in the form of his life in my opinion at the moment. A giant of a player whose reputation goes before him.
Darrell Griffin
Position: Prop
A very strong running forward - Darrell has been a big addition for us this year since arriving from Huddersfield last season. He could talk a glass eye to sleep though.
Richard Moore
Position: Prop
The offload king, Richie is a player who can change a game with the way he runs and offloads, I know from many years of previewing him when he was on the other side.
Weller Hauraki
Position: Prop
The better looking and stronger version of me by all accounts.
Weller is a great lad who keeps me working hard.
Chris Clarkson
Position: Second row
Known as the sloth from the Ice Age films. He's another hard worker and a product of our youth system. Has got a big career ahead of him if he keeps improving.
Danny McGuire (Injured)
Position: Scrum-half
The most talented all-round sportsman I have met. He's a big game winner and can change a game in the blink of an eye. I'm gutted he won't make the final for a million reasons.