Five rugby league legends to be part of Wembley statue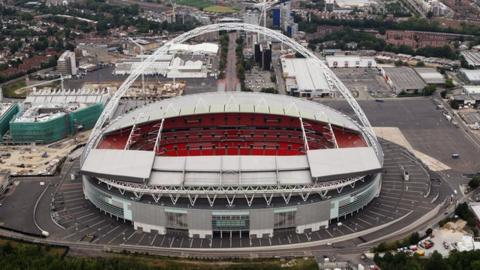 Five of rugby league's greatest players are to be represented in a statue that will be unveiled at Wembley next year.
They are Billy Boston, Gus Risman, Eric Ashton, Alex Murphy and Martin Offiah.
They were shortlisted following a public vote, with the Rugby Football League's board of directors making the final decision to include all five.
"Having them all part of the statue means that every generation of the sport is celebrated," said Nigel Wood, chief executive of the RFL.
"The RFL Board's view echoed that of the many thousands of people who were involved in the selection process, in that the statue needed to be a group representation.
"So many players have contributed to the rich history of the sport and its association with Wembley. The Board was keen that that should be reflected in the statue."
It is hoped the sculpture will be completed in time to be unveiled before the semi-finals of the 2013 World Cup, both of which will be played at Wembley next November.
A statue of Bobby Moore, captain of England's 1966 World Cup-winning team, has already been erected outside the new stadium.
In 1952, Cardiff-born Risman won the Challenge Cup with Workington at the age of 41, having previously played for more than a decade with Salford.
Boston, another Welshman, and Ashton won three Challenge Cups with Wigan between 1957 and 1965, while Murphy became the first man to captain three different teams - St Helens, Leigh and Warrington - to cup victories.
Four-time Challenge Cup winner Offiah, meanwhile, scored one of the most famous tries in the competition's history, racing the length of the field to open the scoring for Wigan in the 1994 final against Leeds.
Offiah, Murphy and Boston all attended the announcement, while the late Risman and Ashton were represented by family members.
"It's a little overwhelming and it will take time to get used to it," Offiah told BBC Radio Merseyside.
"It's a fantastic honour to be up there with some of the legends of the game and in such esteemed company.
"When I sank to my knees and put my head in my hands after I scored that try, I think I realised that it was going to be the pinnacle of my career.
"But I didn't realise it would mean so much to so many people and it's become my legacy to the sport.
"It's an iconic venue because of the history there and there's a long and esteemed history of Challenge Cup final there over the years.
"It's great to say that I'm now part of that history and am going to be immortalised in a rugby league monument.
"I said only this morning that it was a great honour just to be nominated, and now I can't find the words to describe the feeling. I'm thoroughly overjoyed, I'm proud and honoured."
Murphy added: "To have some involvement in the final outcome of the statue is overwhelming and quite emotional for me. Wembley is a very special venue.
"A match at Wembley is the most important in a player's career. No matter what nationality, you always dream of playing at Wembley.
"So to have a statue representing the history of rugby league at the stadium is a great accolade for the sport."
Boston said: "It's a wonderful honour and privilege.
"I'm deeply moved that there's going to be a statue of me outside Wembley alongside Gus, Alex, Martin and Eric, and that people will look on us all as they do Bobby Moore.
"There is no finer venue anywhere in the world. It's a fabulous stadium and it still makes the hairs on the back of my neck stand up every year when I come to watch matches here."
Ashton's widow, Doreen, told BBC Radio Merseyside that the former Wigan centre would have been very proud of the honour.
"Words can't describe just how proud and thrilled we are about it," she said. "We're very proud of him and it's something that he deserves because he gave his life to rugby league."