Joining Jack: Andy Johnson moved by support for ill son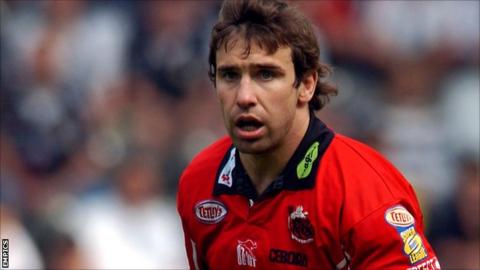 Andy Johnson says he has been moved by the reaction of the sporting community as he works to raise awareness of his son's terminal illness.
Johnson's four-year-old son, Jack, suffers from Duchenne muscular dystrophy, a muscle-wasting disease that currently has no cure.
Bradley Wiggins and Sam Tomkins are among those to have raised awareness of Johnson's charity Joining Jack.
"The support has been immense," said the former Wigan and Salford forward.
Rugby League in particular has given major backing to the cause, with many high-profile players celebrating tries by locking their fingers together to produce the "JJ" salute.
Olympic gold medallist and Tour de France winner Wiggins, a Wigan Warriors fan, has also offered to help raise awareness of the charity.
"There have been times where we've read messages from people and it's brought a tear to our eye," added Johnson.
"The sporting people have given us that platform to work off and a base to spread the word.
"As well as that, there are young kids at grass roots level doing these 'JJ' salutes. It shows that people are behind it.
"Their parents are rattling tins at these games and that's incredible. We're extremely grateful to everybody that's backing us.
"We've had a message from Bradley Wiggins who wants to get on board and get behind us. It made us think that we can do this.
"Duchenne will never have had as much coverage as what it is getting at the moment and that's because of the great people around us."
Jack was diagnosed with the illness in October 2011 and Johnson said setting up the charity has helped him come to terms with the news.
He continued: "Two months ago, I'd have struggled talking about it. I spent six or seven months looking out of the window and crying. I don't mind admitting that.
"It's like being told your son is going to be in a fatal car accident and you've got to sit and watch it happen. The toughest part of it is watching it all unfold in front of us.
"There's no way out of this and we've got to do what we can for Jack. I truly believe we've got a bit of time on our side.
"We've set up the charity, which has given us a focus. We've got a good set of people around us and we aim to fund research.
"We want to find answers and that means funding as many research projects as we possibly can over the next few years."
Hear an extended interview with Andy Johnson during BBC Radio Manchester's "In The Spotlight" programme from 18:00 BST on Thursday, 30 August and online for the subsequent seven days.