Rangi Chase interesting NRL club - Castleford coach Ian Millward
Last updated on .From the section Rugby League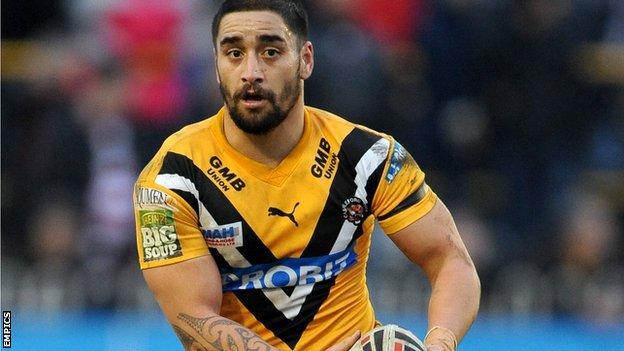 Castleford coach Ian Millward has revealed an unnamed NRL club has spoken to stand-off Rangi Chase.
The 26-year-old, who was Super League's Man of Steel in 2011, has also recently been the subject of interest from Hull FC.
"A club rang me from Australia the other day," he told BBC Radio Leeds.
"They've spoken to Rangi and they've spoken to us so we know that they're very keen to sign him but there's been no offer."
He added: "Why is he the England number six? Because he's the best player in that position over here.
"With the salary cap what it is over there I think a lot of clubs are going to be taking a look at him."
Meanwhile, Millward has urged the Black and Whites to prove whether their interest in Chase is genuine or not.
Hull FC's director of rugby Shaun McRae said at the start of last week that they had set a deadline of 31 August to sort a deal for the England player but no bid was submitted.
"They've been on their big box shouting that they're going to sign Rangi Chase and that he's the best player in the world," he continued.
"I'm not sure if they're being genuine or not but we've had no proof they're being serious yet."