Salford chairman John Wilkinson saddened to switch game
Last updated on .From the section Rugby League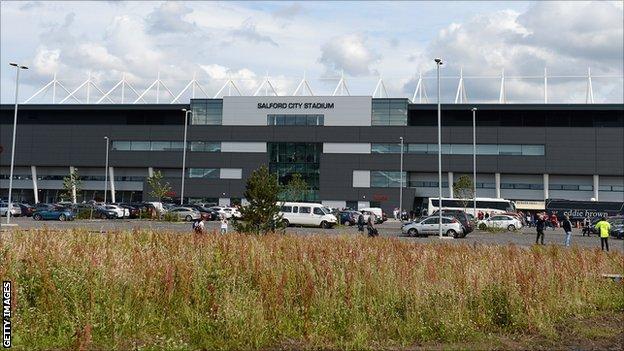 Chairman John Wilkinson is determined to make sure Salford City Reds remain the focal point for sport in the city.
And Salford have been forced to switch their final Super League match of the season on Saturday to Leigh, as the Sharks are in action on the same day.
"As a proud and passionate Salfordian, it is deeply painful to have to play this [game] outside the boundaries of the city we all love," said Wilkinson.
Sale's match against Saracens, their first competitive match at their new home, had already been selected for live television coverage by ESPN.
Salford were due to face play-off chasing Wakefield on Friday, but the game was switched to Saturday evening so it could be shown live on Sky Sports.
In his programme notes for Saturday's game, Wilkinson says the club was left with "no option" but to move their game to another venue.
He writes: "When the call came that Sky wanted to televise the game, it quickly became clear that we were backed into a corner and without going into the finer details, there really was no option but to take the game on the road.
"This is something which we must all work incredibly hard to ensure never happens again.
"It is vitally important to the club and the city that it's only standard bearer has a solid base in Salford. We cannot become nomads, as this has fatally wounded other once great rugby league clubs.
"It will not happen to Salford City Reds, not on my watch."
The club have admitted that attendances are lower than their initial targets and that they are looking for new investment, but have strenuously denied that they are about to go into administration.
"It is fair to say that this whole season has been something of a trial for staff, players and board alike," continued Wilkinson.
"My promise is that we will be better, we will work smarter and we will bring reward and satisfaction to you all. That process begins now. Not tomorrow, not next week - right now - and it will be relentless.
"Actions will speak louder than words here, and is our intent that our actions will grow to become deafening over the next few months and years."