Luke Adamson upset with criticism of Salford City Reds
Last updated on .From the section Rugby League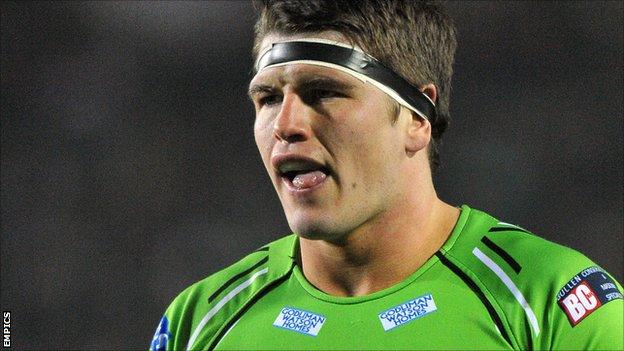 Departing forward Luke Adamson believes Salford City Reds are an easy target for criticism following a tough season.
"People love to speculate and love to put Salford down," Adamson told BBC Radio Manchester.
"It's what I've always expected over the years. People don't give us enough credit and that's been frustrating."
Speaking to BBC Radio Manchester, the 24-year-old continued: "Even when we finished fifth in 2006, people didn't want to give us the credit that we deserved.
"People need to give Salford a lot more credit than their giving.
"They fought hard to get the new stadium, and then as soon as we're there, if we don't attract the crowds, people put us down again.
"We have got to grow on and off the field and it's got to be one of those clubs that people want to come to and enjoying coming to."
Chairman John Wilkinson has confirmed Salford, who finished 11th in Super League, are looking for fresh investment.
And coach Phil Veivers is aware he may need to completely rebuild his squad for 2013 as many of his current squad have already left or are set to leave at the end of the season, Daniel Holdsworth's departure to Hull FC the latest to be confirmed.
Veivers said: "The club's fine, the bills are paid and we're all looking at this five-year plan about how we're going to get to where we want to get.
"It's a massive rebuilding process and it's not one that's going to happen over 12 months. It's going to take two or three years.
"It's a five-year plan that I'd implemented from this year, but with the players that are going, it could be that next year will be 'Year One' and it will take four years after that for us to be where we want to get to."
Adamson, who made his debut for Salford in 2006, is now looking for a new club for next season.
"I don't think the club are looking to re-sign me unfortunately," said Adamson. "It wasn't that I wasn't after a contract, I was. It's been a pleasure playing here but I think it's time for a new chapter in my life."