Play-off opponents Doncaster a surprise - Charlton
Last updated on .From the section Rugby League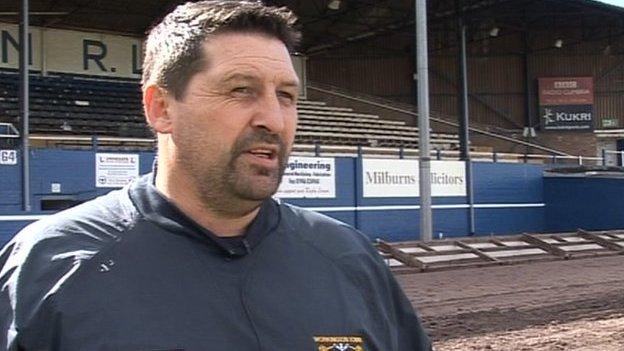 Workington Town head coach Gary Charlton has said he was surprised to discover their play-off opponents would be Doncaster rather than rivals Barrow.
Doncaster's defeat by Barrow means they host Town, who won the West Cumbrian derby with Whitehaven, in next Sunday's elimination semi-final.
"I thought Doncaster would win," Charlton told BBC Radio Cumbria.
"We'll look at the tape, we'll analyse what Doncaster's strengths are and get the right a game plan to take there."
Town overcame the loss of Elliott Miller through concussion in the first-half to score five tries against their local rivals, and in turn denied Haven a single try in a convincing 26-2 victory at Derwent Park.
"We played as a team, when Elliott went off we said to each other let's get out there and win the game," Charlton added.
"The boys have knuckled down, made less errors than Whitehaven, but defence wins you games and that's what won us the game."