Bradford Bulls prop Bryn Hargreaves retires at 26
Last updated on .From the section Rugby League42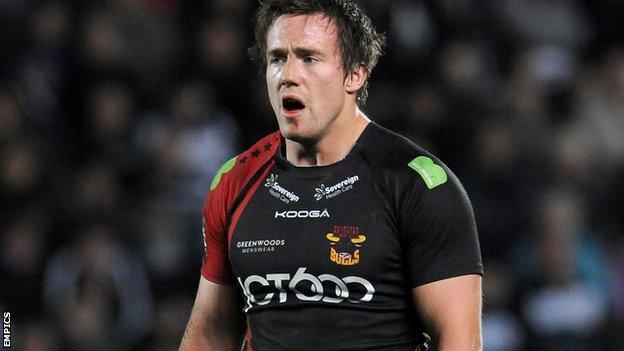 Bradford Bulls prop Bryn Hargreaves has retired at the age of 26, saying he has been left disillusioned by the sport.
Hargreaves, who joined the Bulls from St Helens in 2010, made 26 Super League appearances this season.
"When the financial crisis at Bradford became apparent we got told to prepare for the worst - that we might not have a job," he told the Telegraph and Argus.
"I've found myself an opportunity I can't afford to turn down."
He added: "[It was a good offer] not only financially but also for the fact that it's something that's going to sustain me for the rest of my life, whereas rugby league just isn't."
Hargreaves started his career with Wigan before moving on to the Saints in 2006 and ends his professional career with 167 top-flight appearances.
The Bulls spent more than two months in administration this campaign and he admits that the precarious nature of their predicament made him reconsider his position as a professional sportsman.
"Being a rugby league player is not a very sustainable and secure future as it is but then you see what happened at Bradford and you think 'wow, the carpet can really be pulled from beneath me here'," he said.
"We're pieces of meat at the end of the day and we're not treated with much respect."
He told BBC Radio Leeds that the Bulls may not be the last rugby league side to encounter financial problems.
In the last three years Crusaders, Wakefield and the Bulls have all spent time in administration.
"Someone has to be held accountable for what happened because it's fine saying 'it's sorted now' but there shouldn't have been that situation in the first place," he concluded.
"I have a terrible feeling that this is the tip of the iceberg in rugby league. People behind the scenes seem to think there could be more clubs in financial difficulties.
"Since the start of Super League we've had three clubs in administration. It's diabolical is what it is."
Hargreaves is not the first player to leave the Bulls for a career outside rugby, with Ben Jeffries retiring to go part-time in Australia so he can start a career in mining.