Autumn International series has European flavour
By Shamoon Hafez
BBC Sport
Last updated on .From the section Rugby League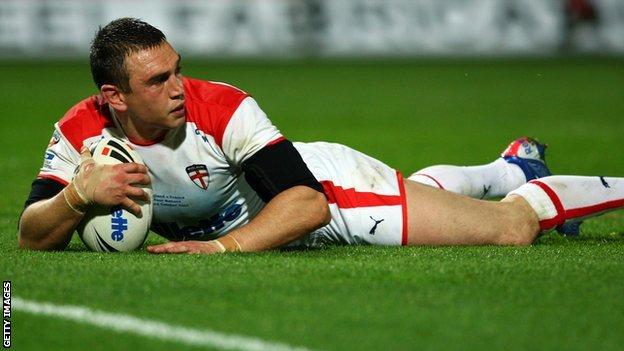 France and Wales kick off an Autumn International tournament in Lens on Saturday that has a real European flavour.
England are the third team in a tournament that has more recently seen New Zealand and Australia and only one of France or Wales taking part.
The Four Nations format has become a tri-team event this year with the Kiwis and the Kangaroos absent, choosing instead to play a one-off Test down under, which was won by Australia.
Nonetheless, with just over a year to go until the start of the World Cup - which will be played in England, Wales, Ireland and France - the Autumn Internationals represent an important staging post for the three participating teams to step up their preparations.
England are overwhelming favourites to win and the two highest-placed sides will contest the final at Salford City Stadium on 11 November.
For Wales and France it also provides an opportunity for younger players to make their mark and book their place in the squad for next year.
England - world ranking: 3
Steve McNamara's side go into the tournament knowing anything less than lifting the winner's trophy will be a major disappointment. The Welsh and French won't offer the sternest of tests, something that New Zealand and Australia, the top two sides in the world, would easily have done.
A confident victory over the Exiles - a team made up of non-English players plying their trade in Super League - in mid-season allowed England to measure themselves against tougher opposition, and they have not lost to the Dragons since 1995 and le Tricolores since 1990, when playing as Great Britain.
Warrington Wolves and England scrum-half Richie Myler feels the competition will benefit all three sides ahead of next year's World Cup.
"It is good for everyone that we are playing each other. It is good for Wales and France that they are playing England, who in turn will be given a good test in this tournament," he said.
"Everyone wants to play against New Zealand and Australia and with the World Cup coming up, we will get the chance to do that. Hopefully it will be a good competition and the players can do well and try to secure places in the squad for 2013."
England are currently on a 10-day training camp in South Africa in the lead up to the tournament, which begins for them on 27 November, but NRL stars Sam Burgess and James Graham are out due to injury and suspension respectively, while Sam's brother Luke could make his debut.
France - world ranking: 5
The French have been without a permanent head coach since Englishman Bobbie Goulding's contract expired last year. Aurelien Cologni, head coach of French Elite side Lezignan, takes charge with 14 of the 19 players coming from Super League side Catalan Dragons. Players from the French Elite league make up the remainder of the squad.
With a large contingent of the squad coming from the same club, Cologni does not have to deal with the problem of unfamiliarity between players.
Catalan finished fourth in the table before suffering defeat in the play-offs to eventual winners Leeds Rhinos and Frenchman Olivier Elima, who recently re-signed for the club from Bradford Bulls, reckons the players head into the tournament brimming with confidence.
"Hopefully, the Catalan players come into the national side in the same state of mind as they had for their club," he said.
"If they do that, there shouldn't be any problems in the spirit of the team and we will have one of the strongest French sides for a while."
And the forward insists the minimum aim is to reach the final, seeing Saturday's game against Wales as being a do-or-die contest.
"The biggest game for us is playing Wales," he added. "If we lose, we are out so we are hoping to beat them. If we win, then unless Wales can pull off a shock against England, we will be in the final. That is our target.
"We are not thinking about winning or losing against England, we want to give 100% and the result will look after itself. If everyone has a good game, plays with passion, then we should win."
Remi Casty, named in the Super League Dream Team, is included in the squad alongside big hitters David Ferriol and Mathieu Griffi, but Canberra Raiders winger Dimitri Pelo misses out.
Wales - world ranking: 6
Wales will be hoping the big-game experience of their coach Iestyn Harris will propel them into the final stage of the tournament. The former Man of Steel winner has been in the role since 2009 and knows his side have a real chance to reach Salford.
Despite losing to France in June, Wales defeated them in the 2010 European Cup to qualify for the Four Nations the following year.
Welsh prop Jordan James is convinced they can cause an upset in the tournament.
"England are the favourites but anyone can beat another team on the day, it is not impossible. You never go into a game not to win so that is at the forefront of our minds," he said.
"We want to put in an 80-minute performance and prove to them and the rest of the world that we should be in the top five in the world."
And the Salford City Reds man believes Wales are in a better position now than they were four months ago.
"I would like to see us in the final. We only need to beat France to do that, we have done it before, lost to them mid-season but we only had a few Super League players then. We need to see ourselves winning that game," said James.
"It would be brilliant for me to play in the final of my home club. I am sure there will be a good crowd for the final but it would just be a bonus to be playing there."
Leading try-scorer Rhys Williams misses the first match due to a knee injury but Wigan forwards Ben Flower and Gil Dudson along with Bradford Bulls man Elliot Kear are back in the side.