Salford City Reds: City council rejects rescue plan
Last updated on .From the section Rugby League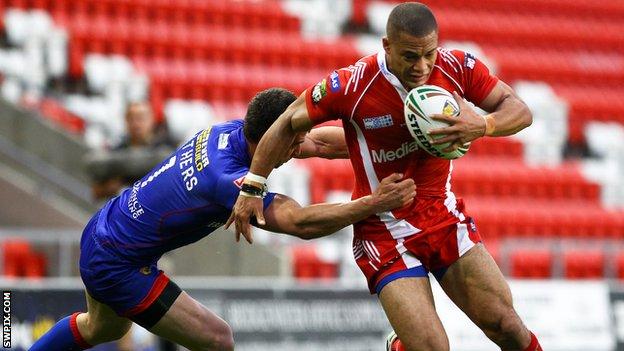 Salford City Reds' future is in doubt after Salford City Council rejected a rescue plan for the troubled club.
The council had been asked to loan the club £750,000 until November, with Peel Holdings, who co-own their Salford City Stadium home, also loaning £750,000.
But the local authority rejected the plan after expressing concern over its financial viability and the level of risk involved with making the loan.
Salford are already the subject of a winding-up petition.
It was thought the Super League side, who have already received £1.5m of investment from the council, were close to administration in October after and issued a winding-up petition.
A settlement was agreed, but another hearing has been scheduled for 7 January after
Luke Patten and Vinnie Anderson, who both left the Reds at the end of last season, each claimed they were owed around £40,000 after entering into a "salary sacrifice" arrangement - giving up the right to receive part of their wage, usually in return for some form of non-cash benefit - during their time with the club.
Meanwhile, Revenue & Customs said they were entitled to around £50,000 of unpaid tax.
Salford stressed at the time that they expected the matter to be resolved before January but now there is fresh doubt over their future.
Salford City mayor Ian Stewart said: "Times are tough and, in many ways, the Reds are yet another victim of the recession.
"We would have loved to try and help them out, but given the spending cuts the city council is already facing, that proved impossible."
Another Super League club, Bradford Bulls, were on the brink of extinction earlier this year and Salford are desperate to avoid a similar fate.
and were saved by Omar Khan's consortium two months later, meaning they will keep their place in the top flight next season, with the Rugby Football League
Reds chairman John Wilkinson has and had often been forced to deny reports of the club being
He has also admitted that their relocation to their new £26m ground at the start of 2012 had denied them of a number of revenue streams.
They had targeted an average attendance of around 8,000 for home matches last season, but the final average figure was less than 5,500.
A was announced in April - the same month in which Salford