Martin Offiah says football could learn from league to stop racism
By Saj Chowdhury
BBC Sport
Last updated on .From the section Rugby League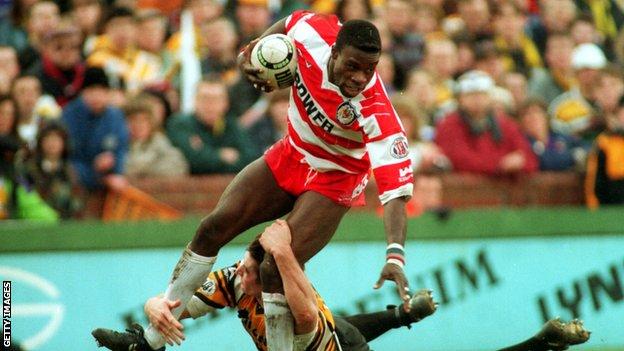 Martin Offiah believes football can deal with its problem with racism by becoming a more family-friendly sport like rugby league.
The former wing, who scored 501 tries during a 14-year career, admitted he was abused when he started out in league during the late 1980s, but said he was not aware of incidents now.
"Rugby league is seen as more of a family sport," Offiah told BBC Sport.
"Perhaps more women at matches would give football a different atmosphere."
He added: "What you hear from crowds at rugby league matches is totally different than what's acceptable in football. In football, it's not only racial abuse, but it's chants about people's mothers and girlfriends, etc.
"Those crowds are predominantly made up of young to middle-aged males. We all know that when men get together the language is always going to be more juicy."
Offiah, who also played rugby union, is regarded as one of the greatest ever players in league.
He plied his trade for six clubs in England and Australia, gaining the most success during a five-year period at Wigan, where he won five league championships and four Challenge Cups.
The London-born wing, nicknamed 'Chariots' after the film Chariots of Fire, frightened the opposition with his explosive pace and was known for his showmanship, which was not universally appreciated.
"I started out in boarding school in London where I played rugby union," continued the 45-year-old. "Then I went north to play a pretty tribal game called rugby league in the 1980s.
"I took to it like a duck to water on the pitch, but that didn't endear me to opposition fans. Because I was a bit of an exuberant player it attracted a lot negative attention. I had to deal with it, accept it, to overcome it and be successful.
"I had bananas thrown at me and was abused. I was spat on at different grounds.
"I recently had a conversation with a Hull fan on Twitter, who apologised for spitting on me about 20 years ago, which I found quite touching."
The fallout from the John Terry case and the recent alleged abuse suffered by England Under-21 defender Danny Rose in Serbia have once again put racism in football back in the spotlight.
Manchester United defender Rio Ferdinand was the most high-profile of more than 30 players not to wear a T-shirt promoting anti-racism campaign Kick it Out last weekend.
It was reported that his refusal was in reaction to a perceived lack of action about racism in his sport.
"Some of the stuff that's happened in football, if that had happened in any other part of society then it probably would have been dealt with far more severely," added Offiah.
"Maybe the likes of Ferdinand and the other footballers who didn't wear those T-shirts felt a little disillusioned.
"They maybe saw the establishment and Kick It Out as one of the same and felt the message has not been sent out as fiercely as it should be."