Widnes Vikings confirm Workington Town link-up
Last updated on .From the section Rugby League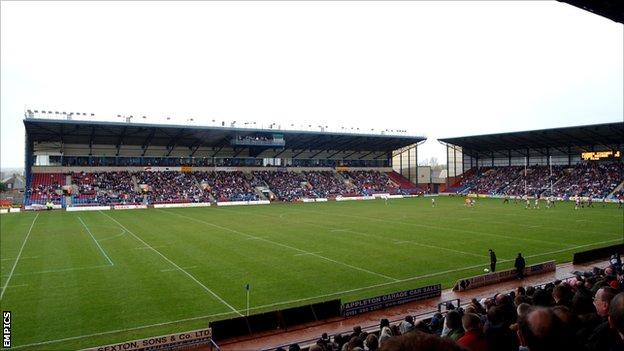 Widnes Vikings have established a partnership with Championship side Workington Town from the 2013 season.
With the under-20s and under-18s leagues now merged into an under-19 division, Vikings will send players Town to gain first-grade experience.
Up to five dual-registration or loan players will join Town, who were promoted from Championship One in 2012.
"It is great to be involved with a team that is growing," said Widnes coach Denis Betts.
"Workington are a famous old club with plenty of history and have recently secured promotion into the Championship.
"They are now building on this and working hard to ensure they become an even stronger force in 2013.
"Alongside the talent already within their ranks, I've no doubt that the inclusion of some of our players will be just what they are looking for.
"Historically, Workington are keen on producing local players and I'm really looking forward to strengthening our links within Cumbria and helping them progress this even further."
Several Super League clubs have already struck up partnerships, with Warrington linking up with Swinton and St Helens with Rochdale and Town's Cumbrian rivals Whitehaven.
Cumbrian clubs already enjoy good relations with top flight outfits, as dual-registration players such as Kurt Haggerty (Widnes to Barrow), Dave Petersen (Hull KR to Workington) and Max Wiper (Salford to Whitehaven) have shown.
"We are thrilled to strike up an exciting new partnership with Widnes for our return to the Championship," Town chairman Dave Bowden said.
"The more formal restructuring of the relationships between Championship and Super League clubs meant it was critical we have a practical link up that will help both clubs.
"The most obvious advantage is that the players from Widnes' first-team squad will be available to play for Town and develop their skills in the Championship.
"In return there is also a development route to ensure our local players can develop their rugby league careers, and at the highest level of the game in this country."