Salford City Reds say investment talks are ongoing
Last updated on .From the section Rugby League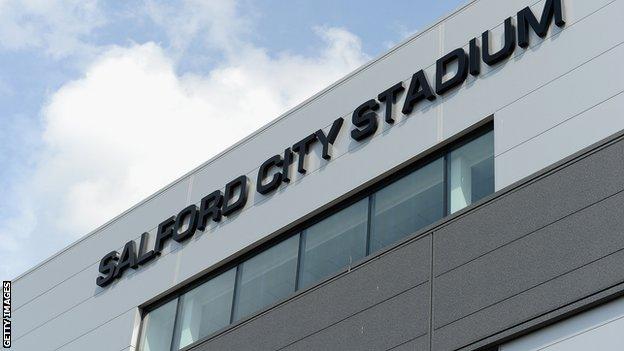 Salford City Reds are confident that discussions about new investment will be brought to a swift conclusion.
The Reds have been in talks with Salford City Council and Peel Holdings, the owners of their Salford City Stadium home, for several weeks.
"Every effort is being made to bring the complex investment talks to a quick and favourable conclusion for all parties," read a Salford statement.
The Super League club remain the subject of a winding-up petition.
The action was in October and, although the two parties agreed an out-of-court settlement, Revenue & Customs and two ex-Salford players - Luke Patten and Vinnie Anderson -
The hearing was adjourned until 7 January 2013.
Salford were able to pay their wage bill for October, amid reports that failure to do so would force the club into administration.
Coach Phil Veivers has only been able to make one new signing ahead of the 2013 Super League season, with
The statement, which was released on Tuesday, continued: "The board appreciates the understanding and patience of our supporters and partners during this time of uncertainty, and would like to assure everyone concerned that we are doing everything we can to expedite the process and move forward to secure a progressive future for Salford City Reds."