Salford City Reds: Wilkinson optimistic over new investment
Last updated on .From the section Rugby League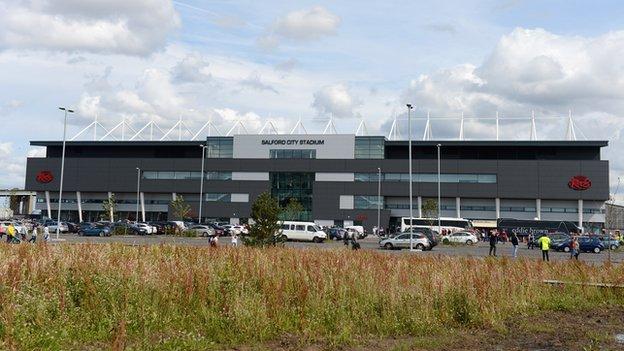 Salford chairman John Wilkinson is still confident of attracting new investment, despite Salford City Council rejecting a £1.5m rescue plan.
Wilkinson had put together a deal that would see the council loan £750,000, a figure to then be matched by Salford City Stadium co-owners Peel Holdings.
The council have now decided not to spend such a sum in the current financial climate.
But Wilkinson insists: "The club just has a short-term cash flow problem."
In a statement issued on Wednesday evening, Wilkinson added: "The board and myself were obviously very disappointed to learn the outcome of the vote taken by the city council's cabinet yesterday, but we respect and understand the difficult position they were in, given the backdrop of budget cutbacks.
"During negotiations, the club has been unable to speak freely and has had to respect the process, and it has been frustrating having to sit back and leave incorrect and at times scurrilous speculation unanswered.
"If these negotiations could have been brought to a successful conclusion, as we all expected they would be, it would have secured the future of the club, however this now opens the door to other opportunities.
"The club's business plan remains solid, viable and verified by leading accounting firms."
The Reds, who are faced with a tax bill in the region of £50,000, are due in court to hear a winding-up petition on 7 January, while they are also trying to settle debts with two of their former players, Vinnie Anderson and Luke Patten.
Wilkinson had earlier said he hopes to have new cash in place within a week, reiterating his belief that the Reds, the Manchester area's only Super League club, were an attractive proposition.
"Salford City Reds remains a great investment opportunity for new blood with an appetite for top-level sport," he said.
"As a board we were fully committed to the deal on the table as everything had led us to believe that it would be concluded positively.
"As a result of yesterday's decision we are forced to reopen investigations into other avenues, and remain confident that with everyone pulling together in the same direction - board members, supporters, players, coaches and staff - that a positive conclusion can still be reached within the required timeframe."
Salford, who now share their new stadium with rugby union side Sale Sharks, are due to kick off next season in 50 days' time, with a home game against Wigan on Friday, 1 February.