Chad Randall eyeing London Broncos momentum
Last updated on .From the section Rugby League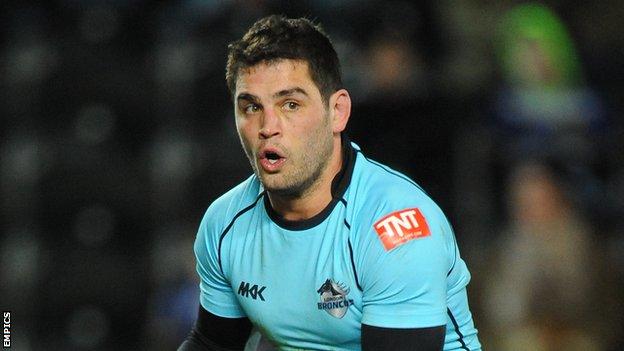 London Broncos hooker Chad Randall hopes the side will be able to carry their form from the back end of last season into the 2013 campaign.
He told BBC London 94.9: "You've got to take the positives out of last year.
"We did finish well. Along with Tony staying on board that gives us a bit of momentum going into pre-season."
Rea was initially appointed on a short-term deal in July, replacing Rob Powell, but the Australian agreed a two-year deal to stay in August.
Randall says that Rea's impact has also been felt since the squad returned to pre-season training.
"Tony came in at the back end of last year and everyone knew what to expect," the 31-year-old continued.
"Whenever a new coach comes in you always get a positive reaction.
"Everyone knows who's the boss.
"We've jumped into pre-season and got stuck in. We need to make sure we get the little things right and then it's about building.
"Everything is going along really well at the moment but it's only early.
"Everyone gets a bit excited in pre-season and you think you're doing really well but we'll know a bit more in February.
"Hopefully we can build a bit more of a crowd up, get some wins and get up the table."
Randall is about to enter his eighth season as a Broncos player, having joined the club at the end of 2005 from Manly Sea Eagles.
His current deal expires at the end of 2013 and the Australian says he is yet to decide whether he will carry on and become eligible for a testimonial.
"At the moment I am seeing how the body goes," he said.
"The pre-seasons get a little bit harder every year.
"I'm going to see how we play and talk to the wife mid-year. I love this place and my family is growing up here.
"It will always be in my heart so we'll see what happens.
"Back home we don't really have testimonials but I know it's quite prestigious here.
"I've got to get through this year and next year, if I play on, to even start thinking about that."