Salford City Reds: Swinton Lions offer funds to help survival fight
Last updated on .From the section Rugby League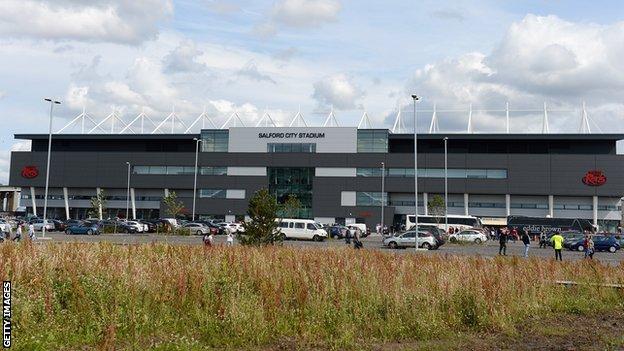 Swinton Lions plan to donate a "substantial percentage" of the gate receipts from Sunday's friendly to troubled Salford City Reds.
The Super League club are currently the subject of a winding-up petition, with a hearing set to take place on Monday.
Salford are around £600,000 in debt and are
"It's a fantastic gesture from (Swinton chairman) John Kidd and his board of directors and one that we'll remember," said Reds chairman John Wilkinson.
"The last few years have seen the clubs pitch in to help each other when needed.
"It's great that these two famous old clubs are fighting so hard together to ensure that the people of the city of Salford have sporting teams to watch and be proud of," he told the club website.
A rescue package that would have been worth up to £1.5m to the Reds was
Traditionally, Super League clubs face a Championship team in a pre-season fixture and donate the proceeds to the lower-division outfit.
However, Swinton have said they will do all that they can to help their neighbours in their fight for survival, including offering a large portion of their share of the income from Sunday's friendly between the two clubs at the Salford City Stadium to the Reds.
Salford supporters have pledged almost £30,000 to the cause, and hope to significantly add to that figure at a special fundraising event on Friday evening.
Louise Woodward-Styles, from campaign group 'Save Our Salford', told BBC Radio Manchester: "Hopefully we can raise a little bit more to nudge it towards our target and show we've got the grit to see this tough ride through."
It is understood that a tax bill of around £50,000 is close to being paid, and the immediate aim is to raise enough funds to settle the outstanding monies owed to former Salford players Luke Patten and Vinnie Anderson.
after the club had reached a settlement with sponsors Steuer Gregsson and are thought to be owed a combined total of around £60,000.