Salford City Reds: Winding-up hearing adjourned until 4 February
Last updated on .From the section Rugby League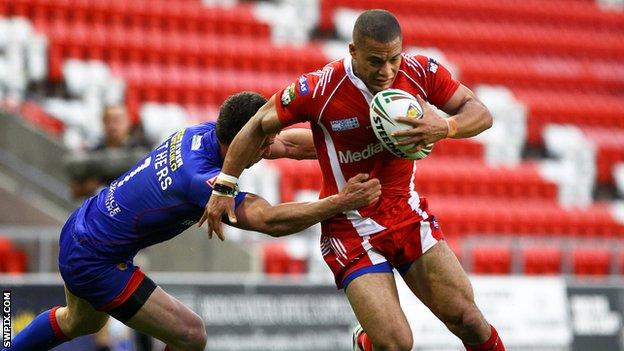 Salford City Reds have been given an extra four weeks to settle unpaid bills with Revenue & Customs and ex-players Luke Patten and Vinnie Anderson.
The news came a day after Salford chairman John Wilkinson revealed that the ailing Super League club are in talks with a potential new buyer.
"They're not coming in just to prop it up. They want to take it forward and win something.
"As a Salford supporter, I'm all for that," he told BBC Radio Manchester.
A winding-up petition hearing was adjourned on Monday until 4 February and Wilkinson hopes the deal with new investors will be in place by that date.
In reaction to the decision, a club statement read: "This additional time has been granted following careful consideration of the current position regarding new investment into the business.
"All concerned parties agreed that there was a real possibility that a positive conclusion could be reached and that this would be preferable to the execution of the lodged winding-up petition."
Salford are thought to be around £600,000 in debt and last month, there was real concern that the Reds would be unable to fulfil their fixtures in 2013.
But the to aid the club's search for investment and are very keen for Salford to retain their Super League status.
The winding-up petition was and a settlement with the management consultancy company was agreed out of court.
But HMRC, who are thought to be owed around £300,000, joined the action and have now taken over as the main creditor.
Patten and Anderson are claiming a combined total of around £70,000 in unpaid wages, which relates to a "salary sacrifice" arrangement which they entered into during their time at Salford.
A crowd of more than 1,800 turned out to watch the Reds beat Swinton Lions 52-12 in a pre-season friendly at the Salford City Stadium on Sunday.
The Championship side to help Salford's cause.
And Salford supporters, who had already raised around £30,000 prior to a special fundraising evening on Friday evening, held bucket collections at the ground.