London Broncos looking to leave The Stoop - Gus Mackay
Last updated on .From the section Rugby League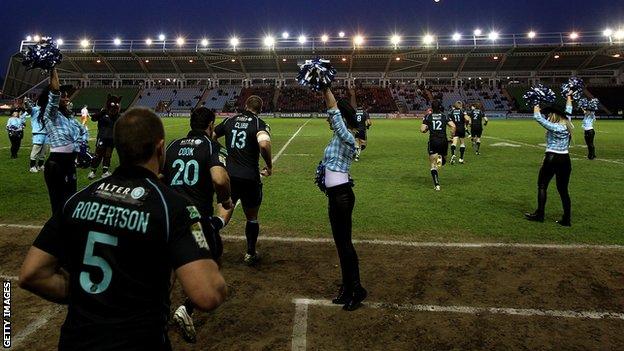 London Broncos chief executive Gus Mackay says the club are extremely likely to leave The Stoop in 2014.
Mackay told BBC London 94.9: "It is top of my agenda. We are in discussions with a number of venues.
"What we are looking for is a willing partner who will take us on board and work with us to develop the game."
He added: "It's an interesting time, but one I am sure we will overcome in the next few months and find a home for 2014."
London's rugby league side have played at a number of different venues since the formation of Fulham Rugby League Club in 1980 and their evolution through three separate guises.
The side have had spells at Craven Cottage, Crystal Palace Sports Centre, The Valley and Griffin Park, as well as staging games at other grounds as one-offs, including two last season.
Mackay says the simple solution of owning their own ground is not an option.
"In an ideal world and finances permitting, you'd have your own venue," he continued.
"We are not blessed with those finances and we have to see what's out there.
"London is a difficult market sporting-wise.
"Premier League football clubs are a challenge [to share with] because of their scheduling but is there someone lower down who might be interested in helping us out or other rugby venues?
"We've got to be careful where we go and what we do.
"We've got to make sure it is the right move."
Despite the difficulties involved in finding a new home, Mackay feels it is right to move away from the ground in Twickenham, west London.
"Quins are a successful side in rugby union and have been fantastic landlords," he said.
"Their business model has changed and we have to look for a home we think is right for us.
"There are a number of discussions going on with various venues. It's not easy but it's one we have to tackle and deal with."
Last season the Broncos played of their home two games away from south-west London, facing Bradford Bulls at Leyton Orient's Brisbane Road and taking on Hull FC at Gillingham's Priestfield Stadium.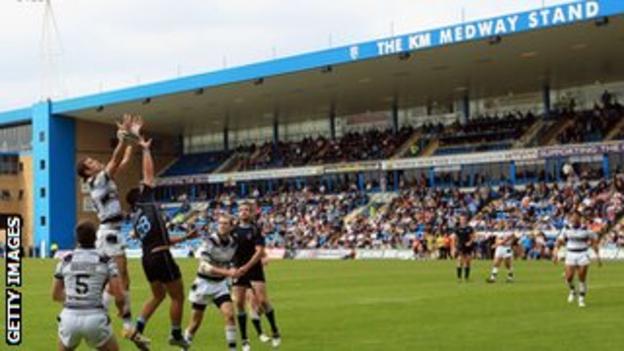 The Broncos will return to Kent this season for their match against Warrington in June.
"The on the road games and why we did them was twofold; to develop new audiences and spread the game in the South East, and also to see if there are any willing partners out there," Mackay said.
"We went to Leyton Orient and that was successful in a way but with the Bradford issue that arose [the Bulls' future being in doubt] we probably didn't give it the marketing attention it should have had.
"Gillingham was a success story and delivered gate numbers and gate receipts."
Broncos finished 12th in the Super League table last season and Mackay says a strong performance on the field under Tony Rea would help the club's position.
"I don't want to set what our expectations are as that is for Tony and his team," he said.
"If we can get that going, interest starts to build.
"It is exciting times but equally, it is a very important season for us."