London Broncos defence crucial, says Luke Dorn
Last updated on .From the section Rugby League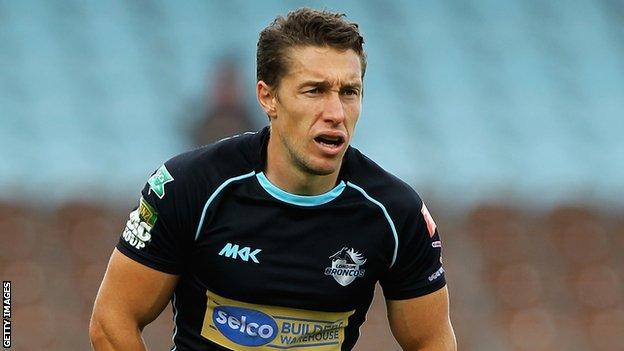 London Broncos full-back Luke Dorn says improving their defensive performances will be crucial this year.
The Broncos begin their Super League campaign at home to Widnes on Sunday.
He told BBC London 94.9: "We haven't put any targets down but we have to believe in ourselves and play to near our potential.
"Our defence is something that has let us down for the last number of seasons but we have worked diligently on getting that right."
The Twickenham Stoop outfit finished 12th in the Super League table last season but finished the year on a positive note after winning four of their last five games.
"If we can get our defence right I know we can score a lot of points and put teams under the pump," the 30-year-old added.
"If we do that I think we will compete in games and win a lot of them this season.
"Anything is possible. Over here it is a very attacking style of competition.
"Conversely, if you can defend well and still have a strong attack, you will win games.
"I have got the utmost faith in our attack."
The side were transformed mid-season following the return of Tony Rea as head coach in July and Dorn says the side can build on that in 2013.
"After the positive finish we had last season we go in with a different mindset," the Australian said.
"It wasn't an overly productive year for us. We significantly underachieved both individually as players and as a team.
"We come into this year a lot more positive and with some optimism.
"We know we can match it with the best of the teams. We just have to prove it.
"Tony has tried to give us a bit of the confidence we lost last year.
"It's been about us, more so than about him, trying to click individually and come together as a team."
The Broncos have won all three of their pre-season games, securing victories over London Skolars, Toulouse Olympique and Catalan Dragons.
However Tony Rea does not think the result of their opening league game against Widnes will define their season.
"We have to mark ourselves on what we believe we're capable of," Rea told BBC Sport.
"The challenge at the moment is raising the level up to what we think we're capable of and then delivering on that.
"The Widnes game will probably just tell us where we're at this week.
"It won't make or break too much of our thinking.
"We're just making sure we apply ourselves well in this game - that's the key thing."