Sam Tomkins: Super League can help with World Cup momentum
Last updated on .From the section Rugby League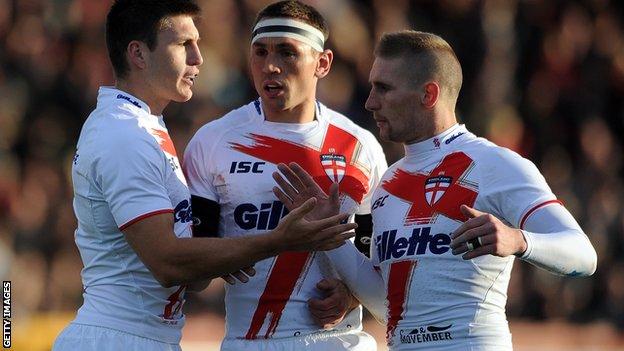 Sam Tomkins says Super League must be competitive and attractive to watch in 2013, in order to entice people to the World Cup at the end of the year.
Tomkins is hoping for domestic and international honours with Wigan Warriors and England this year.
"It's an and, especially with the World Cup at the end, we need to have a successful Super League running into it," he said.
"We don't want a drab league and then try and pick it up for a World Cup."
Full-back Tomkins, who was voted told BBC Radio Manchester: "I'm confident that there are people working hard for Super League and looking to make it a success. We've got a great sport that we need to grow."
which is being held in the northern hemisphere for the first time since 2000, begins on 26 October and ends with the final at Old Trafford on 30 November.
Before that, Tomkins and his Wigan team-mates will be hoping to erase the memory of semi-final exits in both the and last year.
"We're hopefully going to go one step further than last year," added the 23-year-old, who missed the play-off defeat by Leeds because of a knee injury.
"We've got a point to prove. We'll remember the feeling that we had after the two semi-finals and it's not a feeling that we want again.
"We'll do everything to make sure that we're not in that same position."
Wigan will begin the defence of their League Leaders' Shield at Salford City Reds on Friday, 1 February.