Super League: worries persist but World Cup adds wow factor

Last updated on .From the section Rugby League56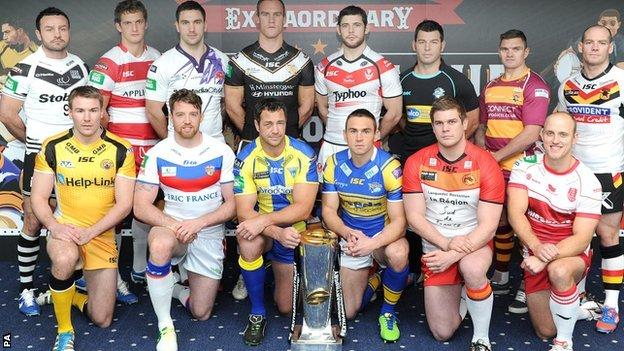 Rarely has the arrival of a new Super League season hit me with a more powerful combination of nerves and excitement.
Like any fan of the sport, I can't wait to give up my Friday nights again to the frozen terraces of summer rugby league. At the same time, I have everything crossed that this vital World Cup year will yield a positive outcome, both for the home nations on the pitch and in the sport's battle to attract new interest, investment and sponsorship off it.
Depending which side your rugby league bread is buttered, there are reasons for both cheer and fear.
When Leeds chief executive Gary Hetherington says the product on the field has never been better, I struggle to disagree. Crowds are up, and a total of 1.88 million fans watched Super League during the 27-round campaign in 2012, a 6.7% increase on the previous year and the highest aggregate attendance since Super League's inception in 1996. Indeed the weekly average gate of 9,950 in 2012 was the highest figure the top league has ever attracted.
In addition, more people are watching the game on TV than ever before. I'm told four million tuned in to the BBC to watch an autumn international series from which both Australia and New Zealand were absent.
There's a huge crop of talent on the pitch too. The return to Super League from Australia of Gareth Ellis, one of the world's best forwards, is a major coup for the British game, especially given the trend for players to move the other way.
A home World Cup should also be enough to trigger an adrenaline surge in even the coolest of followers, and any player will tell you that the World Cup carrot is huge. Nor could the RFL team behind the World Cup campaign ever be accused of not putting enough effort into selling the competition.
Even so, the on-field theatre continues to be performed against a backdrop of uncertainty. Even the brashest rugby league PR man would admit that starting Super League without a main sponsor for the first time is a worrying development following the collapse of the much-maligned Eddie Stobart deal.
While takeovers at Bradford and Salford have brought hugely encouraging news to their fans, the fact both clubs fell into the same difficulties as Wakefield and Crusaders before them is naturally concerning for the game's overall health.
I was asked by a colleague whether rugby league was "losing ground" against other sports. The constant need to compare rugby league to other sports does annoy me, but it is only natural in the circumstances.
A BBC Inside Out investigation this week prompted a huge reaction after a financial expert alleged that overall debts within the game topped £68.5m. Sport finance expert Rob Wilson's warning of a "financial abyss" triggered an angry response from some but, while context is essential, cracks should never be papered over.
Those figures may pale into insignificance beside the debt in football and rugby union (we're comparing league to other sports again) but the crucial point is the management and servicing of these debts, and league will always face a big battle to do that when viewed against our friends in union or football.
Rugby league finances are a major issue within the game and we should not be frightened to ask questions. Warrington coach Tony Smith hopes the "reality check" the programme provided will prompt the sort of tough decisions that will make things better for all who love the sport.
As for Super League itself, there remain critics of the current format both in terms of the sustainability of a 14-team competition and the fairness of a team that finishes eighth still getting a chance to win the competition through the play-offs.
These are arguments that will continue - and I guess that is what pubs and radio studios are for. This weekend I cannot wait to get stuck into the game itself however, and drink that volatile rugby league cocktail again.
Leeds against Hull FC is a fantastic fixture to kick things off, with the champions playing host to Rhinos old boy Ellis, who I expect to make a major impact for the Black and Whites having arrived from Wests Tigers.
After a hugely unsettling period for Salford, the Reds will have a spring in their step when they take on Sam Tomkins and Wigan, and a successful start is crucial to making up that attendance shortfall at their new stadium that so contributed to their recent problems.
Elsewhere, I can't see past home wins for Warrington and St Helens as the two most recent Grand Final runners-up embark on the road to Old Trafford again against Castleford and Huddersfield respectively, while I'm expecting a much stronger London side this year under Tony Rea, beginning when the Broncos welcome Widnes to the Twickenham Stoop on Sunday.