St Helens: Nathan Brown expects positive response to heavy loss
Last updated on .From the section Rugby League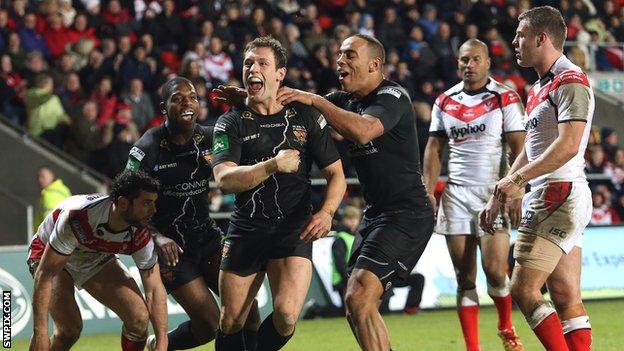 St Helens coach Nathan Brown insisted he was not too downcast despite starting the Super League season with a crushing home defeat by Huddersfield.
The Giants, ran in seven tries in a
But Brown is confident that Saints, one of the favourites for silverware, will recover and have a successful season.
"I'm no less optimistic than I was at the start of the week. It's a long year," he told BBC Radio Merseyside.
"Both of our friendlies were reasonable and we expected our team to perform better, but Huddersfield were physically superior to us and hats off to them.
"We've got to get into training and fight our way back next week. I'm sure things will turn around for us."
St Helens travel to neighbour Widnes on Sunday, with Brown looking for a big improvement from his team.
"We just spoke about a couple of things we needed to change if we wanted to give ourselves a chance," he added.
"They [Huddersfield] kicked the ball really well, so we were starting on our try line, but their kicking game was coming off the back of some good big men carrying the ball.
"It's where we were today and next week we need to be better."