Wigan v Warrington: Blake Green prepared for heavyweight clash
Last updated on .From the section Rugby League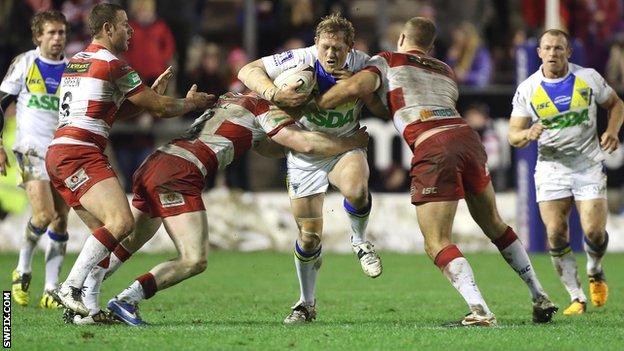 Wigan's Blake Green believes Friday's Super League match against Warrington will show how close the Warriors are to competing for honours this season.
Both sides opened the campaign with wins, while Warrington had the edge in a pre-season game between the teams.
"We got a little taste in the friendly last week. They're big and physical and the favourites to win the competition," Green told BBC Radio Manchester.
"The bookies have got them favourites so I'm happy to run with that, but it probably is justified.
"They've got a really good squad with plenty of experience and some world-class players. It's going to be a big game for us.
"It's going to show up where we need to improve if we want to be at the top of the competition in 26 weeks' time.
"If we didn't play them until round 10 and we'd bluffed our way through the first 10 weeks, and then we played them and had a bit of a wake-up call, it's 10 weeks into the season then.
"At least we're only going to be two weeks in. We're going to be able to find out where we're at and the things that we need to work on."
Australian half-back Green, 26, during the off-season and made his debut in the
He will make his first appearance at the DW Stadium as a Warriors player against Warrington.
He continued: "I've only played at the DW Stadium twice in an away team. It's certainly not a great place to play at when you're the away team because there's always plenty of support there for Wigan.
"There were probably only a couple of thousand at Salford, but they were loud and really supportive. I can only imagine how good it's going to be next week at home.
"The derbies in Hull are pretty intense so I'm guessing it's going to be fairly similar to that."