Sam Tomkins: Super League's superstar eager to sell the game

Last updated on .From the section Rugby League102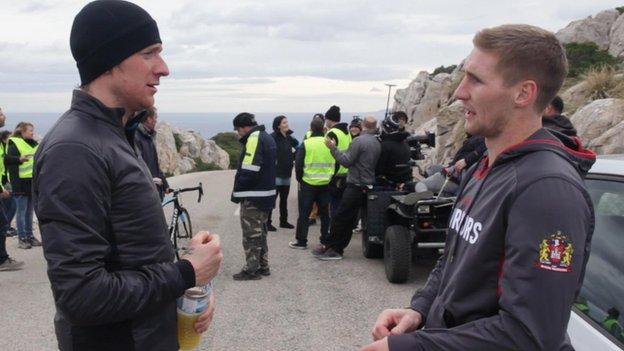 Sam Tomkins is Super League's most valuable asset.
This frighteningly good full-back has filled out his wiry, raw young frame and developed into a confident and composed rugby league ambassador.
The Wigan Warrior has accepted the - very flattering - offer to play union for the Barbarians, but resisted overtures from both the NRL in Australia and the 15-man game over here to stay in the sport.
He is the reigning Man of Steel. He has starred in a television advert with British Olympic cycling hero Sir Bradley Wiggins. Oh and he's even had a tin of soup named after him. All by the age of 23.
Yet some opposition fans still love to hate him. Eighteen months ago I tried to work out why. So in the interim have things got any better for the Super League superstar?
After his opening round hat-trick at Salford ("We weren't brilliant, I was a bit rusty, Salford were really poor") I went to see Tomkins this week and continue to be impressed with the maturity he is showing in dealing with the pressure of playing professional rugby league and the responsibility of driving the sport forward.
The speculation over his future is constant. Rarely does Tomkins conduct an interview that doesn't include the words "union" or "Australia". He is honest about it and is highly likely to try either or both within the next few years.
You sense at Wigan that as much as they would like Tomkins for life, the wisest attitude is to enjoy him while it lasts. The player insists there is nothing in current rumours of a move and that there have been no approaches from union or NRL sides.
"Things are pretty good at the moment and I'm enjoying being at Wigan," he says.
"It's a massive year for rugby league in this country with the World Cup. That's a huge incentive for the players to play well and for the league to be successful with the spotlight on us."
The spotlight is something to which Tomkins has had to become accustomed, and under which he appears to thrive. Wigan fans love him, but a lot of rival supporters still don't. Why?
"Rival fans are all brilliant. They all love me - they never have a bad thing to say," he says with a laugh.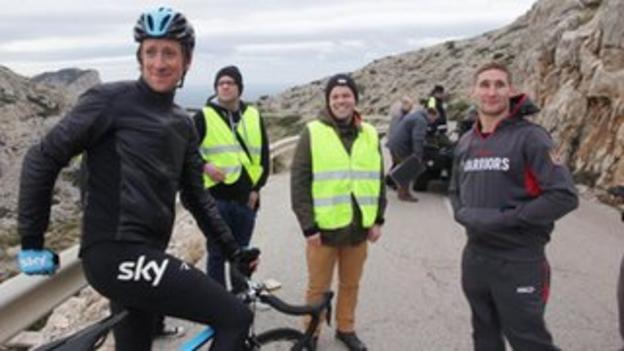 "You do get stick, but I like it. Other players do too. I'm not unique in getting stick from fans. The Salford fans were pretty good last week. There was some inventive chanting which I can't repeat but it made me laugh!"
If Tomkins has got used to being recognised everywhere he goes in Wigan, his new mate Wiggins must know the feeling. The BBC Sports Personality of the Year is a huge champion of the game and his beloved Warriors.
Alongside Leeds Rhinos fan Wayne Rooney, Wiggins is just the kind of global name the sport should be jumping on to help promote it to a wider audience in World Cup year. Tomkins turned television star last month when he starred alongside Wiggins in a brilliant TV advert for Super League.
"It was a lot of fun," he says. "The plan was originally to do it over here but because of Bradley's training I had to go over to Mallorca for the day - tough gig! All the lads were training in the snow and I flew off for a day in the sun with Wiggins to see where he trains."
Tomkins is as in awe of professional cycling as Wiggins is of professional rugby league.
"The training they do with all the hills and climbs is ridiculous," he says. "I was only running up and down them for five minutes and I was blowing.
"The advert has been really well received. My brother Joel was with the England Saxons last week and he said all the Saxons boys were watching it down there so it has done its job in reaching a wider audience."
So will this blossoming bromance see the rugby boys cheering on Wiggins from the roadside?
"Absolutely. Me and the Wigan lads will go and watch Bradley. What he has done for British sport is unbelievable and it is massive to have such a big name involved in our game. We have some big names that really like the sport and that highlights the fact we have a great product that probably needs exploiting a little bit more."
Speaking of great champions of rugby league, the sport lost a good man this week. The shock sudden passing of our friend and colleague David Oates has stunned us all at the BBC.
Oatesy's love for the game shone through in his unmistakeable commentary and I will always feel hugely privileged to have shared the Old Trafford commentary box with him for the last two Grand Finals.
His death feels unfathomably unfair, and all of our thoughts are with his family and close friends at this tragic time.