Salford City Reds: Theo Fages stopped breathing on pitch
Last updated on .From the section Rugby League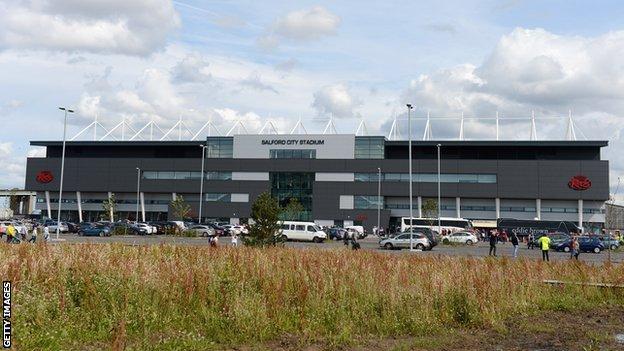 Salford City Reds' Theo Fages stopped breathing after a tackle in Saturday's 40-6 loss against Catalan Dragons, according to assistant coach Sean Long.
Prop Julian Bousquet was sent off for the third-minute challenge on Fages.
"He passed the ball to the back rower and then got hit with an elbow flush in the face which knocked him out cold," Long told BBC Radio Manchester.
"For eight minutes he was out - he'd stopped breathing and had a fit because of his windpipes."
Frenchman Fages, who has started both of Salford's games so far this season, has stayed in France following the game to receive medical treatment and is likely to be out for the next fortnight with concussion.
And Long has admitted he was incensed with the challenge on Fages, which he feels was away from play.
"It was just a reckless tackle off the ball. Rugby league is hard enough as it is, never mind when it's off the ball," said Long.
"I've been on the end of some good hidings off the ball and it needs to be clamped down on.
"The guy is only 18 and he could be scarred for life. We've got to protect these half-backs.
"If it's a 50/50 give him a nudge or a clout, but not off the ball. We tell our half-back to go to the line so he's ready for it, but once he's passed the ball he's relaxed."
Despite playing 77 minutes of the game with an extra man, Salford were unable to claim their first victory of the season.
But Long says that Fages' injury was a major factor in their defeat, disrupting the side's rhythm and forcing them to play men out of position.
"Some might say we should have gone on to win the game but it messed up our game plan because we'd done a lot of work with Theo during the week," Long said.
"We had a hooker playing at scrum-half, a prop playing at back-row and a prop playing at stand-off."