Table-topping Huddersfield out to make amends in Super League

Last updated on .From the section Rugby League16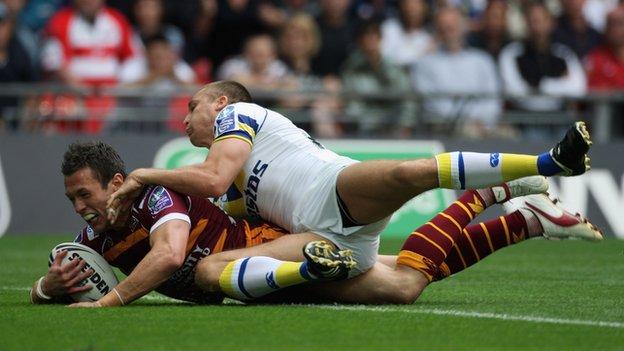 I write this week's blog with a sense of deja vu in hailing Huddersfield's early-season pace-setting prowess.
The Giants always start well so perhaps we should not be surprised that they sit at the Super League summit
Yet to concede just 10 points in the first 160 minutes of the season, half of which was away at St Helens, is some effort.
This could change quickly of course, with Wigan in town next, but Huddersfield have got heads turning in February again.
"We always do well at the start of the season but it feels like this year is going to be different," Shaun Lunt told me when I called him on his way to Monday's club video review and massage session.
The hooker is Huddersfield's leading scorer this year with three tries in his first two games. He is back at the Giants after falling out of favour last season and moving to Leeds where he ended up a Grand Final winner.
He left in April, a month through which Huddersfield went unbeaten at the top of the table. One win in two months followed and an alarming slump to seventh. Coach Nathan Brown left for St Helens, Paul Anderson took over.
Lunt's is an intriguing story. Is he now happy to be back at Huddersfield after what he achieved at Leeds? What has changed at the Giants since his time away? And why is he adamant things will be different this year?
"Things will be different because we've got a good balance now," he says. I ask what that means.
"Well, we never got a break last year. Without pointing the finger at anyone, we didn't get maintained properly throughout a long season.
"It's not for me to have a go at anyone but things have improved in that respect. I learned at Leeds that after a tough game it doesn't help to be flogged in training the next week. You need a nice easy week to allow the body to recover.
"We are starting to do that at Huddersfield now and we are already seeing the benefits."
Lunt talks of a new "less is more" culture at Huddersfield where rest is best.
"Last season we would have a tough game and then still do our fitness work whether our bodies were knackered or not. It was detrimental," he said.
The 25-year-old feels this overload of fitness work between games contributed to player burnout towards the end of the season, and that manifested itself in poor results on the pitch.
Not that the England man was suffering such a fate. On the contrary, Lunt was making a name for himself at Headingley and achieving a lifetime dream of playing in, and winning, a Grand Final at Old Trafford.
He tells me he was desperate to stay at Leeds but the Giants had other ideas. "I wanted to stay at Leeds, who wouldn't? I won the Grand Final and I wanted to stay on for the World Club Challenge.
"That was nothing to do with Huddersfield or anyone here, I just had such a great time at Leeds. But I'm loving it back here now and I think that's showing on the field."
It is indeed, and coach Steve McNamara is monitoring Lunt's form as he looks at his England options in World Cup year.
Lunt says his time at Leeds brought him on as a person and player, learning daily from Kevin Sinfield and Jamie Peacock. Both rubbed off on his approach to playing the game.
"Coming back to Huddersfield, I didn't expect it to be as good as it has been to be honest. I'm getting a lot more respect off people having proved myself at Leeds.
"Baloo (coach Paul Anderson) has been fantastic. He totally understood my situation. I explained what I want to achieve, and he took it on the chin and took it well.
"He gave me his word that I'd be treated properly here this year and he's been true to his word and is encouraging me to play my game the way I like to play it."
The arrival of another experienced head at Huddersfield appears to be making a difference too. Stuart Fielden is in the twilight of his career with a wealth of Grand Final and Challenge Cup-winning experience to pass on.
"My success at Leeds has made me hungrier than ever to taste it again and I want my mates here to share it too," says Lunt. "Fielden has tasted it too so he's come in and is trying to let that rub off on the lads".
For Lunt, and Huddersfield alike, this is a year to prove themselves.