Theo Fages: Salford scrum-half expecting more injuries
Last updated on .From the section Rugby League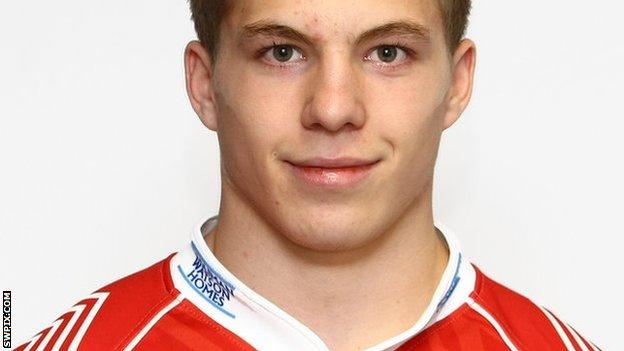 Theo Fages expects more injuries throughout his career after he stopped breathing as a result of a late tackle in Salford's defeat by Catalan.
The teenage scrum-half was also knocked out for eight minutes following a collision with Julian Bousquet.
But the Frenchman has said injuries are merely an occupational hazard.
"It doesn't change anything. I'll get more knockouts and more late tackles, but I'll keep playing how I am doing," Fages told BBC Radio Manchester.
Fages will not be involved in while he continues his recovery, but may return to action next week against Hull KR.
a day after the game in Perpignan, which
Catalan have released a statement describing some reports of the incident as "inaccurate" and defending Bousquet, who was sent off three minutes into the match and subsequently
Confirming the Dragons would be appealing against the punishment, chief executive Christophe Jouffret said: "Our role as a club is to defend our player, who, like Theo, is young and inexperienced at this level.
"But his attitude with our reserve grade as well as with his junior club Lezignan has always been exemplary.
"Julian has been sanctioned over this incident, resulting in a red card as well as a four-game ban.
"This penalty is very heavy when compared to recent similar incidents, in which the intention was clearly more evident and which subsequently did not incur a similar sanction.
"We have informed the Super League of our intention to appeal as we are sure that Julian's contact was not intentional and that the contact of his shoulder on Theo's head was not deliberate.
"Our technical staff [are] working on the details of the incident and working closely with our solicitor.
"It is now time to leave the matter in the hands of the appropriate people without constantly adding inaccurate comments.
"We wish Theo a quick recovery and want mentioned that it was the two qualified Catalans' doctors who were responsible for managing the incident, as Salford could not provide a qualified doctor.
"Our relationship with the Salford club has always been good and we have always helped them when we can, as last weekend."
Speaking to Rugby League Extra, Fages added: "I do not remember much about it [the tackle]. I remember passing the ball, and the next thing I was on my way to hospital.
"Half-backs are used to getting to the line and passing the ball. You accept you'll get hit, but not late like that.
"It's not my job [to determine the punishment] but I think it's late. I hope the RFL punish him like he deserves."