London Broncos coach Tony Rea remaining upbeat
Last updated on .From the section Rugby League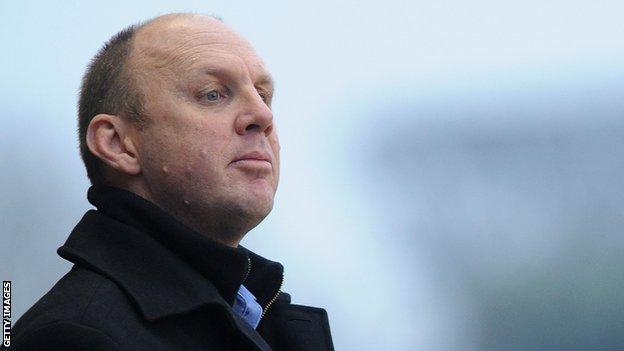 London Broncos head coach Tony Rea is remaining positive despite his side's slow start to the campaign.
The Twickenham Stoop outfit have lost their opening three Super League fixtures this season.
He told BBC London 94.9: "There are a lot more opportunities and we have got to get some momentum going and start seeing things differently.
"We are seeing all the bad bits and reacting to them. We need to start striking some blows out there."
Rea believes that the mentality at the club, which has finished in the bottom three in the table in each of the last three seasons, must change in order to progress.
"It's got to be a factor," the Australian said.
"Experience is a teacher and the experiences haven't been good teachers in the last periods.
"We have got to get on top of how we think about ourselves, perceive ourselves and see ourselves and learn to trust each other really quickly.
"That's exactly where the answers are.
"Things have not been good for this group of men for a while so a little bit of doubt comes into it.
"You've got to trust each other and believe in each other and see it out there."
The Broncos fell to their third defeat of the season on Sunday when they were beaten 28-0 by Wakefield Wildcats at The Stoop.
They trailed 6-0 at half-time but Rea admitted post match he did not think his side would be able to turn the game around.
"I wasn't really thinking about the result," Rea continued.
"When I was looking at the guys in the changing room we were sort of hanging in there.
"I was saying some things but I am not sure we were really clear-eyed and I was feeling that myself.
"You don't want to be hoping in a game. You want to be knowing.
"There was a bit of hope there, which you never like to see. We knew what we wanted to do in the second half.
"But we played against a good side who played some really good football and got us on the day when we were not us."