Tony Smith & Shaun Wane: Shoulder charges have place
Last updated on .From the section Rugby League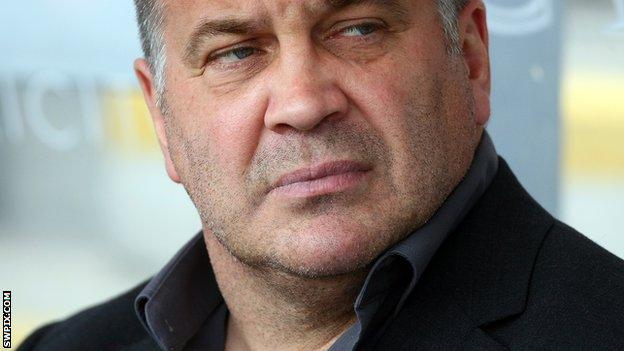 Warrington head coach Tony Smith and Wigan counterpart Shaun Wane have both said they believe fair shoulder charges do have a place in rugby league.
The Rugby Football League outlawed the tackle with immediate effect on Wednesday, after the International Federation
"If it's legitimate and isn't to an opponent's head or dangerous, it's part of our game," said Smith.
Wane added: "As long as it's body on body, I think it's fair game."
The Wigan coach continued: "We don't practice it because it is not a good technique. We practice perfect technique here.
"But I don't see a problem with it. I've seen it in the NRL for years and it's happened over here for years. It happened when I played."
The Australian Rugby League Commission outlawed the tackle at the end of last year, while New Zealand already had a ban in place for domestic competition.
The RFL decided to keep it until a full consultation process had been undertaken, but their hand was forced when the International Federation announced their decision on Tuesday.
The ban starts with Friday's World Club Challenge in Leeds.
The RFL, which was outvoted by its southern hemisphere counterparts, could have delayed changing the rule for their domestic competitions until the end of the season but decided, for the sake of uniformity, to introduce the ban in Super League and the Championships from this weekend.
There have been several high-profile incidents during the opening weeks of the 2013 season.
Salford half-back Theo Fages was knocked out by a charge from Catalan Dragons prop Julian Bousquet, while Castleford half-back Rangi Chase was banned for two games for his strike on Leeds full-back Zak Hardaker.