Sam Tomkins: Wigan Warriors reject Salford City Reds bid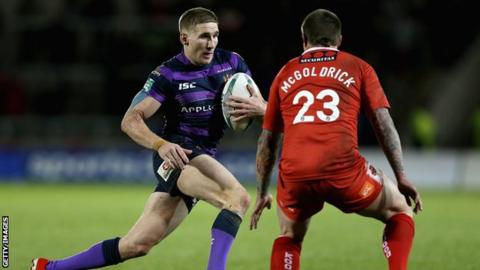 Wigan coach Shaun Wane has confirmed Salford City Reds made a bid for England full-back Sam Tomkins, but said a deal was "never going to happen".
Reds owner Dr Marwan Koukash revealed on Sunday that he
"(Wigan chairman) Ian Lenagan mentioned it to me after the London Broncos game on Sunday and I burst out laughing," Wane told BBC Radio Manchester.
"I thought he was joking. It was genuine - they weren't playing games."
The Warriors coach continued: "I'm really pleased Salford have got an owner who's willing to put his hands in his pocket and make a genuine bid for one of the best players in the competition, but it was never going to happen.
"Sam is our player, I want to do things this year and I'll do them a lot better with Sam in our team."
Ambitious Koukash, who on 31 January, has brought in former Wigan coach Graham Lowe to oversee player recruitment at the Salford City Stadium.
They also made approaches for Tomkins' England team-mates Adrian Morley and Rangi Chase, that were rejected by Warrington and Castleford respectively, but Wane expects Salford to emerge as a "real threat" in the next few years.
Tomkins, 23, is
One of the terms of the deal he signed in November 2011 is that he is not allowed to speak to other clubs, but there is ongoing speculation about a future switch to either rugby union or Australia's NRL when he is free to do so at the end of next season.
in Wigan's opening Super League fixture of the season and will be one of the key figures in Steve McNamara's England squad at the World Cup later this year.