Salford City Reds: Dr Marwan Koukash says no job is safe
Last updated on .From the section Rugby League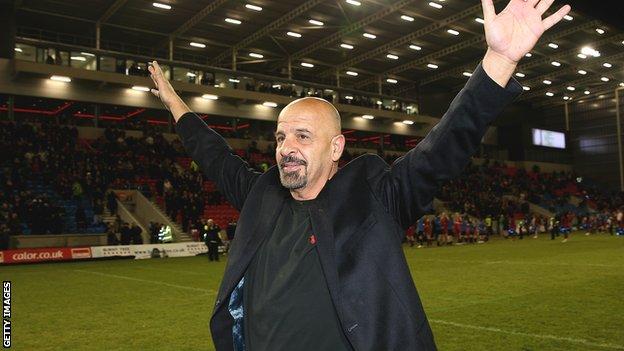 Salford City Reds owner Dr Marwan Koukash has warned that he will not accept mediocrity and is not afraid to make changes in pursuit of success.
The Reds slipped to the bottom of Super League after being
Speaking to BBC Radio Manchester after the match, Koukash warned that no one's position at the club is safe.
"I'm extremely disappointed. I didn't expect this. Things have to change and changes will be made," he said.
"Areas of the side need to be strengthened and we'll try to do that as quickly as possible. People will be given a chance and if they don't deliver, they'll be out of the door."
When asked if the futures of head coach Phil Veivers and his staff were secure, Koukash continued: "I will wait and see what happens.
"The whole club needs rebuilding and if I think someone is not performing, in any area - whether it is players, coaches, directors - I won't hesitate to make changes. I didn't come here to sit around and see bad games like today.
"The public deserve better than what we've seen today. I promise the supporters that this won't happen again."
Star winger Jodie Broughton was unable to feature against the Broncos, having been caught in traffic as a result of an accident on the M62, but Koukash refused to use that as an excuse for his side's tame defeat.
Veivers, meanwhile, insisted there was not much difference between the two teams, adding: "It was one of those days where every option the boys seemed to take was the wrong one."
Salford were in danger of going into administration before Koukash, a successful racehorse owner,
While the deal was finalised, Veivers was left to work with a squad extremely short on numbers during the off-season.
Several new additions were made prior to the first competitive game of the season and more players - including Leeds Rhinos forward Darrell Griffin and the former Manly duo of Liam Foran and Vic Mauro - have been introduced in the opening weeks of the campaign.
Salford began with heavy defeats against Wigan, Catalan - who played for 77 minutes of the game with 12 men - and champions Leeds.
appeared to be the start of Salford's revival, but the loss to London, who had failed to win a match this season before running in seven tries in a comfortable success at the Salford City Stadium, has left the Reds propping up the table once more.
Off the field, Salford have signalled their intent to become a major force in Super League. Approaches have been made for England trio Adrian Morley, and most recently all of which were rejected by the players' parent clubs.