Tim Sheens: Australia coach "on Salford list" to replace Phil Veivers
Last updated on .From the section Rugby League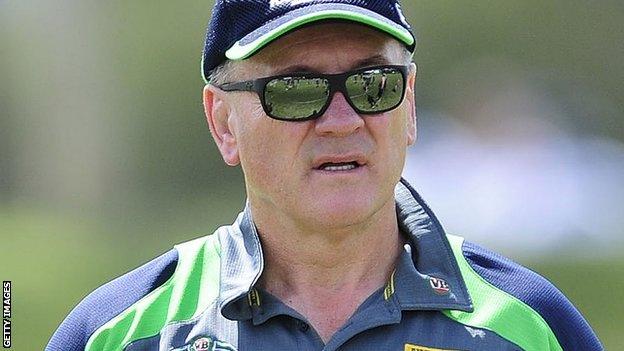 Salford chief executive Ed Farish has said Australia coach Tim Sheens is on their list of possible replacements for Phil Veivers, who was sacked on Sunday.
Sheens, 62, left NRL outfit Wests Tigers at the end of the 2012 season.
However, it is unlikely that he would be available to take the job until after the World Cup later this year.
"We haven't discussed anything with Tim at this stage, but Tim's a great coach so I'm sure he'll be on the list," Farish told BBC Radio Manchester.
Sheens has been in charge of Australia since February 2009 and left his club position to focus exclusively on his country's preparations for the World Cup.
Meanwhile, head of youth development Alan Hunte has been placed in temporary charge at the Salford City Stadium.
And he will be given a chance to prove himself in the role, starting against Wakefield on Sunday, with Sean Long remaining at the club as assistant coach.
Salford have lost four of their first five Super League matches and are bottom of the table.
Veivers, 48, had been at the helm since November 2011 and, after they finished 11th last season, he spent much of the winter trying to rebuild a squad that had been decimated as a result of the club's financial problems.
Dr Marwan Koukash completed his takeover at the end of January, which allowed Veivers to bring in a number of new players on the eve of the campaign.
Salford began with heavy losses against Wigan, Catalan and champions Leeds, and although they achieved a first win against Hull KR, a on Friday spelt
"We've got a plan to move quickly and we'd seen enough in the first five games to decide that we needed somebody else," added Farish, who remains confident of success this season.
"Marwan wants silverware by the end of next year and we think we've got a crack at the Challenge Cup this year if we get a nice draw.
"We haven't written the season off by any means and I still don't think the play-offs are out of reach. We've seen clubs who have lost seven of the first 10 and still made the play-offs."
Speaking after Friday's defeat, Koukash had warned that changes would be made if performances and results did not improve.
He said: "The whole club needs rebuilding and if I think someone is not performing, in any area - whether it is players, coaches, directors - I won't hesitate to make changes. I didn't come here to sit around and see bad games like today.
"The public deserve better than what we've seen today. I promise the supporters that this won't happen again."