Meet Stefan Ratchford: Warrington's odd-job man

Last updated on .From the section Rugby League29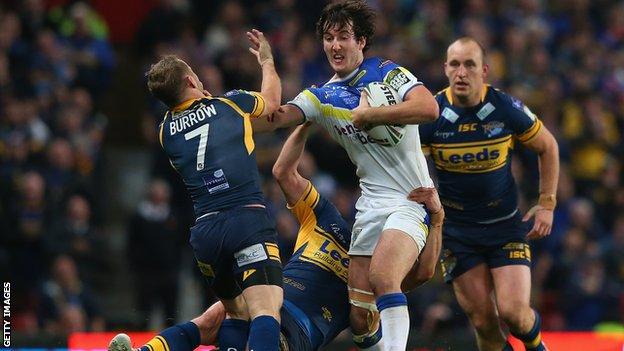 Stefan Ratchford hopes his emergence as Warrington's talented odd-job man does not cost him an England place at this year's World Cup.
Having already slotted in at full-back and centre, the 24-year-old has starred at half-back for the Wolves in the absence of Lee Briers and hopes his versatility will impress England coach Steve McNamara.
Ratchford was one of six Wolves named in McNamara's latest Elite Training Squad and Warrington coach Tony Smith expects that number to be higher by the end of the season.
As one of my 'Ones to Watch' at the start of the season, I'll be catching up with Ratchford throughout the year.
When I went to see him at Warrington's Halliwell Jones stadium this week, what struck me about Ratchford was the old head on his young shoulders.
Not only on the pitch with his elusive running and eye for a try - he scored one and set up the other in defeat by Hull KR last week - but also off it with his mature demeanour when dealing with the media.
He clearly wants to have his own position at Warrington, though. He wants to be their starting half-back, but Briers' 34-year-old legs are still going strong. And another 34-year-old, former Man of Steel Brett Hodgson, continues to excel in Ratchford's other favoured position at full-back.
"Last season was a bit of 'here, there and everywhere', which I don't mind," he said. "I enjoy playing different positions. The last couple of weeks I've been playing stand-off with Briers injured and I hope I continue there.
"I suppose when you are at a club like this you just have to be thankful you are in the 17. Wherever Tony asks me to play I am happy to do so."
That is clearly the party line from a player who wants to be picked by the boss, but I am sure deep down Ratchford does not want to be Mr Utility.
"Yeah, you do get frustrated when you don't play 80 minutes every week but when you are playing alongside Briers and Hodgson then every minute is a learning experience so that will benefit me in the long run.
"It is frustrating when I don't get in the starting 13 but I'm learning so much from them. I didn't go as far as having Briers posters on my walls as a kid but I idolised him and admire everything he has done. I pick up little tips every training session."
Ratchford also said he would not bet against Briers performing a retirement U-turn to lead Wales at the World Cup: "There may be a familiar face running out in that number six shirt."
So what of Ratchford's own international ambitions? He was called up for the post-season training trip to South Africa and has kept his place in the first squad of this season, to which only Ben Cockayne has been added.
While the squad is settled, there will be far more competition for the likes of Ratchford when the Australian-based players such as Gareth Widdop return to the mix.
Does Ratchford think his own prospects would be enhanced, were he to be handed a regular club position? He pauses and thinks for a few seconds.
"Yes and no. I've actually spoken to different coaches about this. Some coaches love versatile players who can fit a number of positions. Others tell me it is a disadvantage as it means your coach perhaps doesn't see you as good enough as a regular starter in any one position consistently."
So which camp is coach McNamara in?
"Steve is happy to have a versatile player, but if I can nail down one position here that will benefit me," was Ratchford's tactful answer.
What does his club coach Smith reckon?
As a former England boss himself he has experience on both sides of conundrums like this. Does he feel that in not giving Ratchford a regular position he may be harming his international chances?
"I would like to think not. I think most coaches and Stef himself recognise versatility as a real asset. I think his ability to player in the halves, full-back or in the centres makes him more valuable to representative teams.
"It helps that someone can adapt rather than be a specialist. It makes their worth to the team greater."
Smith picked up Ratchford so what did he have in mind when he signed him? A stand-off? A full-back? A centre?
"He came as a good rugby league player [who] will be in our squad most weeks in some capacity."
It is clear Smith rates Ratchford very highly. And with both Briers and Hodgson turning 35 this year, this could prove to be the last season for Ratchford as an odd-job man.