Scott Dureau: Eye tumour diagnosis was 'scary and intense'
Last updated on .From the section Rugby League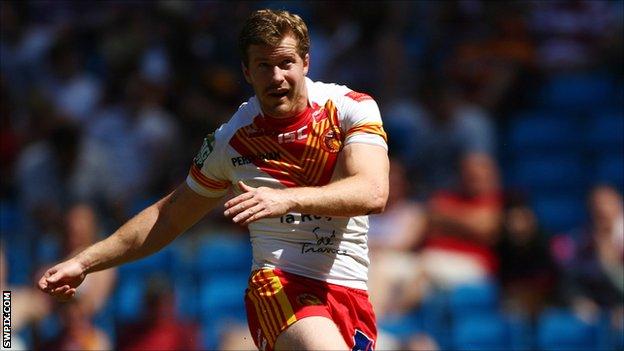 When Catalans Dragons half-back Scott Dureau visited an optician, complaining of blurred vision and headaches, the most he thought he would leave with was a pair of prescription spectacles.
Instead, the news the 26-year-old received turned a relaxing Christmas trip home to Australia completely upside down.
"I had some eye tests done and it wasn't quite glasses that I needed, it was a tumour behind the eye that was causing the problem," Dureau told BBC Sport.
"It was very scary at the time, I was in complete shock when I first found out, it wasn't something I expected, it was very intense and shocking.
"The best thing was I was with my family and friends - as much as it was uncomfortable, it was a comfort knowing my family and friends were around me.
"Christmas was still good because I found out two days after, but New Year I was at home in bed by 11 o'clock just staring at the ceiling, and I had the surgery on the second of January. It was a pretty different holiday experience."
The response from the rugby league fraternity was also a source of comfort for the former Newcastle Knights player, as team-mates, rivals and fans offered words of support across social media.
"It was absolutely [a help], my phones were non-stop off the hook with well-wishers," Dureau added.
"I've had so much support from the rugby league community in Australia, France and England and it's been fantastic.
"I don't think I can thank everyone enough for the support, it definitely makes things a lot easier when you have that support."
Thankfully, the surgery was successful and Dureau is now concentrating on getting fit enough for a return to the first-team after surgeons confirmed he could return to training last month.
"I feel pretty good, I've been doing some training the last five or six days now, getting back into the swing of things in the gym and a little bit out on the field with the boys," he said.
"Although I hate missing games and miss being part of things, it's good to be back around the team.
"Everyone was pretty pumped to see me and I was pumped to see them,
"I came straight to training to see the boys who were all there and it was a good feeling, all of the boys were happy to see me and it was quite emotional."
On the field, Catalans have maintained progress under head coach Laurent Frayssinous, with Thomas Bosc and Leon Pryce forging a partnership in the halves in Dureau's absence.
Three wins from five games have lifted the Dragons, who finished fourth in Super League last term, to third in the table - just a point behind leaders Huddersfield.
"I've missed more games already this year than I have the last two years combined. It's frustrating not playing, as a player you want to play every week," Dureau added.
"I'll get back on the field eventually, it's just all about getting healthy."
Patience will be the biggest challenge for Dureau, not just now but in years to come.
"There hasn't been a timeframe [on returning to action], it'll be a bit of 'how I feel' and a pretty slow process," he continued.
"It's a pretty serious situation, more likely to be months rather than weeks, but we'll co-ordinate the recovery with doctors here in France and my surgeon Dr [Charlie] Teo has a colleague in Toulouse, which is only a couple of hours away.
"I'll communicate with him, and organise things, they'll monitor me now over the weeks and months and we'll go from there.
"I'll be monitored one scan a year for the next 10 years which is a normal procedure.
"At this stage, at the scan the other day it was all-clear, there was no sign of the tumour, which is as good as we can hope for. Hopefully, nothing will grow back."