Warrington: Tony Smith prefers coaching players to trophies
Last updated on .From the section Rugby League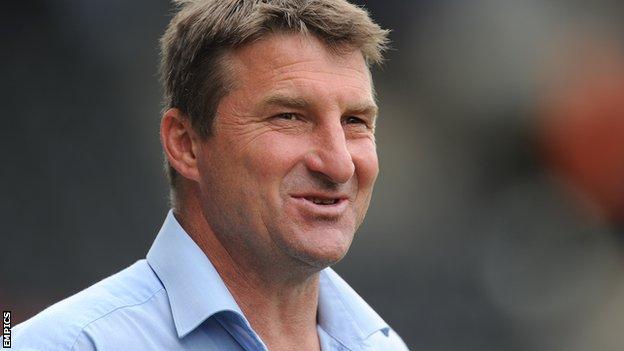 Warrington head coach Tony Smith has revealed he prefers the development of players to winning trophies.
"You get satisfaction out of seeing them [the players] develop and reach some of their goals and ability," he told BBC Radio Merseyside.
"That's the satisfaction for me rather than the trophy winning days."
He added: "Don't get me wrong, finals are fantastic occasions to be part of, but for me the personal side of it is watching the development of some of these young people into being good people and better players.
"Watching the development of Ryan Atkins developing his skills over the years and seeing how Richie Myler's playing at the moment, these are talented kids who are improving."
After ending his playing career at Workington, Australian-born Smith, a British citizen, moved into coaching with Huddersfield Giants in 2001.
He later moved on to Leeds, guiding them to the Super League title in 2007 before taking charge of England side at the 2008 World Cup.
Smith was appointed head coach by Warrington in March 2009, initially combining the job with his England role before giving up the latter eight months later.
As well as their Challenge Cup successes, the Wire also won the League Leaders' Shield in 2011.
After Smith, Brian McDermott of Leeds is the second-longest Super League serving coach, and there have been 34 different appointments since he moved to Wolves, something he believes has to change.
"When you say I'm the longest serving at four years it's a bit sad really for our industry isn't it?" Smith added.
"It's so fickle. People don't get a chance to establish themselves or create a culture.
"It's pretty much you've got to do it straight away or you're out and that's hard to do in any sort of profession. It's usually short-term planning and you get short-term results.
"I don't know that we are that different to most other industries, I think the only difference is we're a bit more in the public eye.
"It's like any business to run it well, and to run it properly, you need good people and a good culture and often some time to develop some of that."