Salford City Reds: Bobbie Goulding has head coach ambition
Last updated on .From the section Rugby League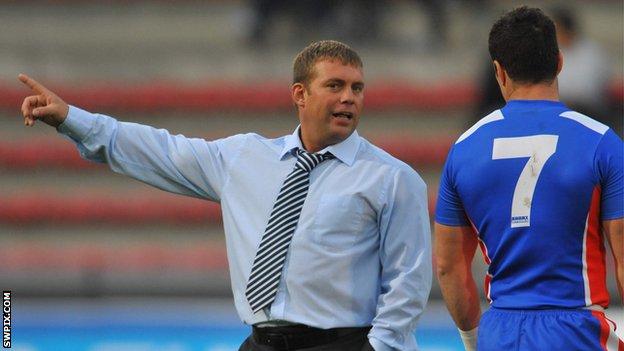 Bobbie Goulding believes Salford City Reds supporters want him to become the club's new head coach.
"I want the job and I think I'm the fans' favourite. I think that's been said on Twitter," he said.
"I'm ready to go. I'm ready to be the best coach this country has seen. I've got everything in my armour to do it."
Speaking to BBC Radio Manchester's Rugby League Extra, Goulding expressed his desire to meet the Reds' new owner Dr Marwan Koukash.
"All I ask of him is 20 minutes of his time so I can put my plans for the future," said Goulding.
"I'm never publicised in the press, but I know I'm the man. It's just being given the opportunity.
"My plans are always with the kids, to bring them through, because there is nothing really come through at Salford in the last 10 or 15 years, maybe Stefan Ratchford.
"I'd like to get a really strong youth structure and put a few of the candles on top of the cake with the likes of Sam Tomkins or Ben Barba.
"They've got the backing now and I think they'll be the Manchester City of rugby league."
Goulding had a hugely successful playing career that began at Wigan, but most of his achievements came at St Helens, with whom he won the Super League in 1996 and played in back-to-back Challenge Cup successes at Wembley in 1996 and 1997.
He also had spells at Leeds, Widnes, St Helens, Huddersfield and played for Salford towards the end of his career but, before taking the France job, his coaching experience was limited to two short spells at Rochdale.
Salford have been without a head coach since Phil Veivers was sacked by multi-millionaire owner Koukash, but caretaker Alan Hunte has also expressed his desire for the role.
Goulding revealed that, if he did take over at the Salford City Stadium, he would ask 33-year-old former France prop David Ferriol to join him.
"I know that if I took over the Salford coaching job now, David Ferriol would come out of retirement," he added.
"David Ferriol will come and play for Salford rugby league club if Bobbie Goulding takes over or has some association with the club on the coaching staff."