Gus Mackay: London Broncos considering options for new home
Last updated on .From the section Rugby League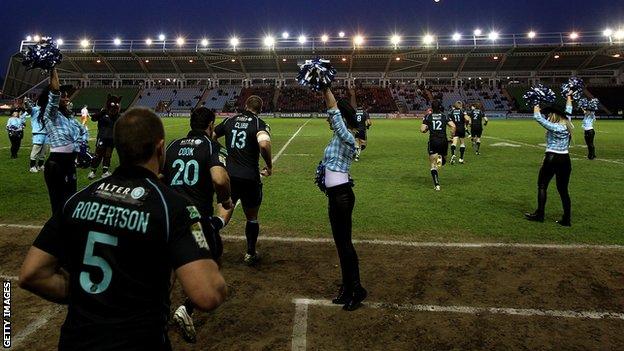 London Broncos chief executive Gus Mackay says the club are making progress in their hunt for a new home.
The Super League side will leave The Stoop at the end of this season.
He told BBC London 94.9: "We are in discussions with some venues and that is where I am focusing my time.
"We know we have to get that concluded as soon as possible to secure the long-term future of the club. We have offers on the table now and we are considering where we are going to go."
The Broncos have played at the Twickenham Stoop, the home of rugby union side Harlequins, since 2006.
London's rugby league side have played at a number of different venues since the formation of Fulham Rugby League Club in 1980.
The club, which has had four name changes since then, have had spells at Craven Cottage, Crystal Palace Sports Centre, The Valley and Griffin Park, as well as staging games at other grounds as one-offs.
Mackay revealed in January that they were looking to leave their current home, but he has stressed the club have to make sure their next move is the right one.
"The long-term search is a challenge," he added. "It has to be the right move with the right partner.
"There are some good options on the table.
"We have to take into consideration the size of the stadium we want to play in and the costs associated with that.
"We have got offers from stadiums which probably fit our model and take us forward and give us long-term security.
"I don't want to put a timeframe on it but, as I have said before, it is top of the agenda.
"I want to get it concluded as soon as possible. I don't want to rush into it but equally we want to make the right decision.
"I have got discussions with the board to discuss our options.
"It is a challenge but I am sure we will get there."
The Broncos, who will play a game at Gillingham FC's Priestfield Stadium in June, have already been forced to move two of their home games to other venues this season.
The Twickenham Stoop pitch was deemed unplayable following their game against Hull FC two weeks ago and Harlequins wanted to preserve the state of the surface ahead of their Heineken Cup quarter-final against Munster this Sunday.
That decision forced the Broncos to move their game against Catalan Dragons to Esher RFC's Molesey Road and re-arrange Saturday's clash against Bradford Bulls to be played at Adams Park, the home of Wycombe Wanderers and London Wasps.
Mackay was alerted they needed to find a new venue for last Thursday's match against Catalans on the Monday afternoon.
"It was probably the toughest week of my working career," Mackay said.
"We are tenants and Harlequins are our landlords. They call the shots.
"They own the ground and I got a phone call to say the ground was unplayable. We have an obligation to fulfil fixtures and the RFL have been very supportive.
"There has been criticism levelled at the club and me. We had a tough decision with a team flying in from another country.
"We could have postponed it but you don't want to be backing fixtures up.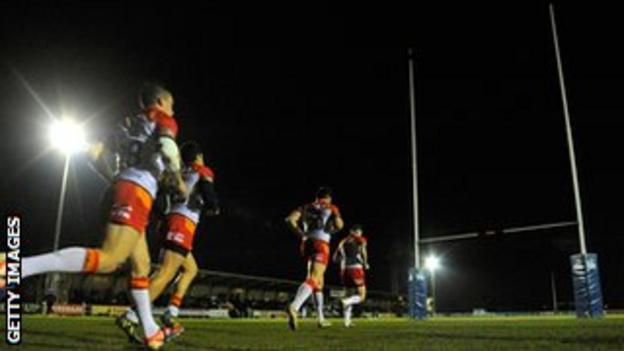 "I have spent the last six months talking to other venues so when I got the call it was quite easy for me to pick up the phone to a number of other chief executives in other sports and talk to them about the possibilities.
"Esher were fantastic and I can't give them enough credit for making it work and they got us out of a situation."
Broncos head coach Tony Rea grudgingly accepts the situation the club find themselves in.
"We just have to get on with it," he told BBC London 94.9.
"We need to come out with the best solution we can and I think the club has done that.
"We do feel sorry for the supporters. They are committed to coming to The Stoop and they get juggled around a bit but it is out of our control.
"The club did really well to get a game on last Thursday against Catalan Dragons at Esher.
"We have rung a couple of people involved with the rugby club at Adams Park [London Wasps] and they gave it a big thumbs up."
The Broncos are currently 12th in Super League with two wins and a draw from their 10 games.