Leeds Rhinos' Ryan Bailey has chance to reflect during ban

Last updated on .From the section Rugby League80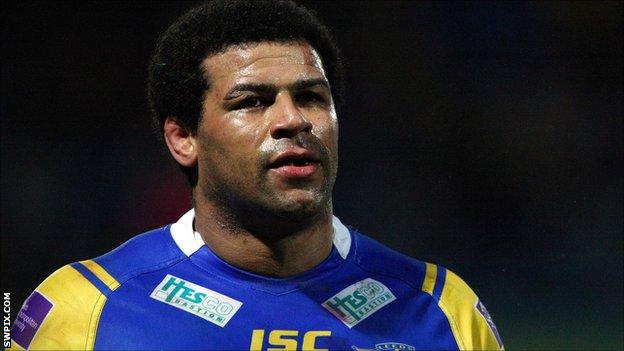 Ryan Bailey is loved by Leeds fans and hated by others. Indeed the Rhinos enforcer may well be on his way to becoming the most hated player in Super League history.
The month-long ban Bailey received this week for two offences against Catalan Dragons deprives the champions of a key man and offers the forward an extended opportunity for introspection. But will the influential Leeds bad boy change? And does he need to?
"People hate him because he represents that thuggish element of rugby league from yesteryear," says one of the most iconic bad boys of all time - Bailey's former team-mate Barrie McDermott.
"For the opposition, he's like a splinter in your finger that you can't get out."
McDermott, who now oversees the Leeds youth teams, is perfectly placed to judge after his own fiery club and international career. The chant of "Barrie's gonna get ya" used to ring round Headingley as the Great Britain prop picked fights with his fiercest foes and he is now watching Bailey do the same.
"I'm not saying he's not a nice lad - he is. He is loved by his mother and his kids but when he has that Leeds kit on, he has a job to do and a role to fulfil and he does it by being nasty."
Bailey was in the background of arguably McDermott's most famous brawl, a fight with Bradford's Stuart Fielden that earned the Leeds player a red card at Valley Parade in 2002.
"When I played, that stuff went on every week," says McDermott. "Unfortunately what Bailey does is antagonise everyone in the ground - players, coaches, fans and the referee, so there's always that feeling that he's got it coming.
"He was guilty before he got in front of that disciplinary panel because people have that perception of him.
"Being Leeds's bad boy is a by-product of what he does. Jamie Peacock plays the same role at the club but in a very different way. Because of the respect players have for JP, the reaction is that when he gets in trouble - as with his sin-binning against Bradford Bulls last week [for dissent] - you sense players feel it must just be JP getting frustrated.
"Bailey does what he does and they say it's his fault. There's no sympathy, no excuses. They don't blame anyone else."
That was certainly the case in France on Monday. Fortunate to initially go unpunished for a reckless first-half tackle, Bailey was not so lucky with a late and illegal shoulder charge in the second. It left the 12 men with a real fight to win the game with two injured players on the bench.
So is the player's preoccupation with being the enforcer harming the team and overshadowing the qualities that have earned international recognition? McDermott feels that what Bailey gives Leeds when he is on-song far outweighs any flaws.
"If you look at the back end of last year's Grand Final, he was stood shoving and pushing three players while the rest of his team-mates were off doing what they were doing and clinching the game. But they still won and he was a key part of that. I don't think he cares about perception. His coach backs him and his team-mates do and that's enough. If he misses a game every now and then, it seems he and the club will accept that."
Bailey is well aware of his reputation but he has rebuilt his career since being sent to a young offenders' institution for nine months for brawling in the street in 2003, and has become one of the most important components of the Rhinos first team, as well as one of the fittest men in it.
McDermott says the fact Bailey is so unpopular among rival teams and fans proves there are 13 other clubs who would want him playing for them.
"Every other team would want him and Bailey is not alone in being an antagoniser. Look at Sam Tomkins, Josh Charnley [both of Wigan] and Richie Mathers [at Wakefield] - influential players who enjoy themselves. When they are having fun, it can tip over."
Full-back Mathers had a coffee cup thrown at him by a Castleford fan last week when he celebrated a try against his former club. "Mathers's celebration was a similar reaction to Bailey getting overexcited, just manifesting itself in a different way," reckons McDermott.
So does he see anything of himself in Bailey?
"I can identify with some of what he does as I got stuck in like he does and that got me into fights. But I went about winding up the opposition in a different way. I'd go for their biggest players to show them who was boss, which isn't necessarily what he does. He has a different view of which opposition players he wants to unnerve and it often works for him."
On the other hand, his reputation is not working for his international prospects, believes McDermott.
Bailey's fall-out with England team-mate Jon Wilkin - who reacted furiously to the Leeds prop's celebrations after beating Wilkins's St Helens in the 2011 Grand Final, saying he was "embarrassed for him as a human being" - threatened to unsettle Steve McNamara's England camp 18 months ago. The pair eventually shook hands and moved on but McDermott doesn't feel it will be an issue in World Cup year as Bailey is unlikely to be selected anyway.
"Some coaches love to pick a player like that," he says. "But others would run a thousand miles. When he's good he's as good as any front-rower in the game but Steve's not been picking him and I'd be surprised if that changes."
In the meantime Bailey has a month off to reflect, vowing to return "fitter, faster and stronger".