Ian Millward: Rangi Chase is irreplaceable for Castleford Tigers
Last updated on .From the section Rugby League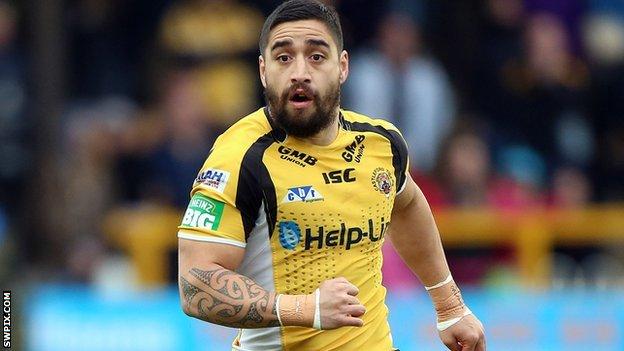 Former Castleford Tigers boss Ian Millward says the potential exit of stand-off Rangi Chase would be a huge blow for the Super League strugglers.
Millward, who left the Tigers last week, told the Super League Show: "It's been ongoing for a number of weeks.
"You can't replace him when he's out for one match. Keep in mind they have the smallest squad in the league."
He added: "You have to understand Rangi's position on this, the NRL is a huge machine right now and it would be a great place for him to bring up his family.
"He's been absolutely fantastic this season and he'll be a star for England in the World Cup if he makes that.
"This isn't a one-off, this is something that is going to happen with a lot of England's better players because the attraction of going there is so great."
The 27-year-old, who pledged his future to the club earlier this year, helped the Tigers to just their second league win of the season in Saturday's 28-26 win over Widnes.
Meanwhile, Millward feels whoever succeeds him at Castleford will need assurances on the club's future before taking the job.
"I'd had some talks with the chairman Jack Fulton the week before and what both of us were looking for and it was best for both parties to part," he said.
"It's well documented that Castleford, along with Wakefield, are the two clubs who don't spend the salary cap.
"The new coach needs to ask what kind of system and resources they'll be running under. The club has had three chief executives in the last 12 months.
"There's a lot of things that have been put on hold at Castleford because they want a new stadium but the important thing is have they lost track on all the other clubs while they have been waiting?"
The Tigers had hoped to move into a new £50m stadium this year but former chief executive Steve Ferres revealed last October that they may have to look at redeveloping their current Wheldon Road home.