Castleford Tigers would not stop Rangi Chase exit
Last updated on .From the section Rugby League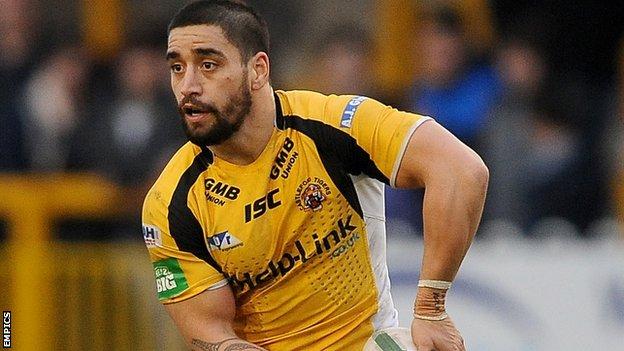 Castleford chief executive Steve Gill has revealed stand-off Rangi Chase is free to leave the club if he wants to.
"Rangi has said that he would like to go there," Gill told Super League TV.
"We want him with us but we don't want to keep a player with Castleford Tigers who doesn't want to be here. It's his call to make, if he wants to go then we'll look at compensation."
He added: "He'll be playing on Friday night and we'll deal with it after the game."
The England international has been named in Castleford's 19-man squad for Friday's Challenge Cup tie at Leeds Rhinos.
Meanwhile, Gill says the club are still considering their options with regards to appointing a new coach.
Danny Orr was placed in caretaker charge last week after the departure of Ian Millward.
"We've had a quite a lot of applicants but at the moment we're happy with Danny," he said.
"It's important for the fans that whoever comes in buys into the ethos of the club. It's a family club and Castleford is a close knit community.
"My preference would be a for a British coach who could put some structure back into the club and continue to develop our younger guys."