Andy Powell welcome, but bigger Super League concerns remain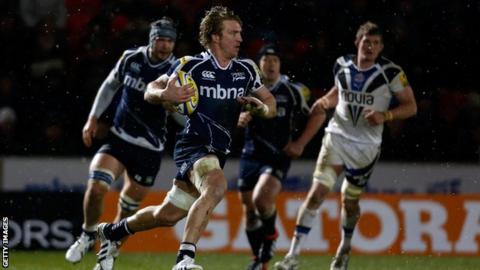 The fire still burns fiercely in Andy Powell's belly and becoming a dual-code international represents the Welshman's final career goal.
The controversial union number eight has finally sealed his move from Sale Sharks to rugby league and claims the opportunity to sign for Wigan was just too tempting to resist.
The talent leak out of Super League towards union and Australia is concerning league diehards, highlighted by Wigan pair Gareth Hock and Lee Mossop being announced as Parramatta signings on the same day.
At least Powell is one big-name trend-bucker.
"I've always wanted to do it," said the intimidating forward. "There were other Super League and NRL clubs interested but Wigan was the one I couldn't turn down."
In fact, four other clubs were keen. Two English and two Australian sides wanted to take on the 31-year-old. However, it was the influence of Wales boss and Wigan assistant Iestyn Harris, himself a former union international, that was key to the move.
Going forward, Powell's relationship with Harris will be key to his successful transition to the 13-man game.
"There is grappling and wrestling to adapt to but it shouldn't take me long to pick that up," said Powell. "Iestyn is going to help me out quite a bit."
Powell almost switched codes in 2010 and then again the following year. He was widely tipped to follow Gareth Thomas to Crusaders but the struggling club never made a firm offer for his services. He then had the opportunity to join Wigan in 2011 but turned it down.
"That move didn't happen because I wanted to play in the union World Cup for Wales," he added. "I've achieved that now so it's the right time to move."
Powell insists he is a different character to the one that drunkenly drove a golf buggy on the M4 in February 2010.
"All that was years ago. Everyone has done it," he said. "It doesn't annoy me [to be asked about his past] but it's done, it's dusted, it's all forgotten. Nobody is an angel in life."
Wigan will hope not. Chairman Ian Lenagan feels he has signed an aggressive forward capable of reaching the very top in his new sport. Powell says that is exactly what he expects to be able to bring to the Warriors team - if he can get into it.
"I'm that physical presence on the field," he continued. "It is a tougher sport [than union] but I love the challenge and the 'in-the-face' stuff all the time.
"I think it will suit my game because of the way I carry the ball and tackle. I will probably play prop but it will be tough to get into the team.
"I will train hard to get into the side and then maybe the World Cup. It would be great to play for my country in league but I need to work hard to get into the Wigan team first."
Powell will move to league in June at the conclusion of the union season, eager to prove he is not just a "past his best" squad man picking up his professional pay cheque.
Providing he can stay fit and can quickly get to grips with the technicalities of his new sport then can he can be a successful league front-row.
However, his arrival is unlikely to appease Warriors fans' frustrations at the impending departures of Mossop and Hock.
Yes, Hock would not have played for the club again regardless of what happened after his Widnes loan, but these moves to Australia are far more of a concern to the quality of Super League than any buzz surrounding the recruitment of a union international.
With champions Leeds battling to keep the NRL vultures away from their young England centre Kallum Watkins and all four Burgess brothers now playing down under, the drain of young English talent is visible and real.
Super League's poster boy Sam Tomkins is likely be next, with a move to the NRL likely at the end of his Wigan deal. Quite simply, the British game is unable to compete financially.
And there is the dilemma. Having England's top players competing in the ferocity of the NRL can only strengthen the national team, but the result is a worryingly weakened domestic game.