Mike Cooper: St George Illawarra to sign Warrington Wolves prop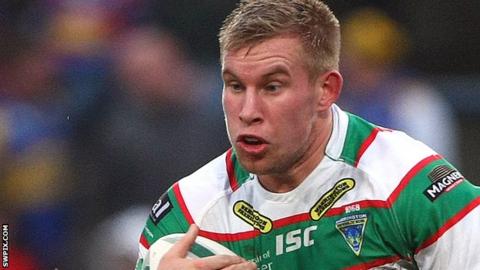 Prop Mike Cooper will leave Warrington Wolves at the end of the season to join NRL side St George Illawarra Dragons.
Cooper, 24, has agreed a two-year deal, although there is an agreement in place for him to rejoin Warrington when he chooses to return from Australia.
Cooper is the third English player to announce a move to the NRL in the past week, with
He told BBC Radio Merseyside: "It's something I've always wanted to do from an early age. The NRL has been something I've been really keen on.
"I was a bit overwhelmed with the amount of interest that I had and also the coaches over here that have backed me and gave me a good reference. It was a quick move but an easy decision.
"Nobody knows who I am in Australia and nobody has seen me play before, so it's like going back to square one.
"It's like starting any new job - you've got to prove yourself. I'm not expecting to get there and walk straight into the side."
about the number of players swapping Super League for the NRL, with
But and Cooper shares that view, adding that the fact Australian clubs are looking to England to sign players must mean that Super League is in good shape.
"It's a tough game and it's only a short career, so you've got to make the most of it," he said.
"It's now more accessible and more appealing for English players to go there. English lads have wanted to play in Australia for a long time and there may have been a few things that have held that back in the past.
"But also, I think the NRL clubs are looking over here and I think that's credit to the English game. It shows that the game is in good strength over here, especially the junior side."